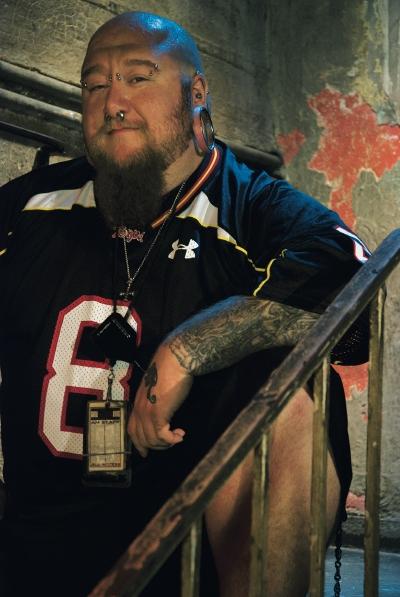 With his saucer-sized ear gauges, piercings from every corner of his face, and sleeves of tattoos covering his 340-pound frame, Josh Burdette was an unmissable sight at the 9:30 Club. But his intimidating appearance that covered a gentle demeanor will no longer be a fixture at the venerable rock club.
Burdette, 36, died over the weekend. According to WJLA, he was found dead in his Kensington, Md. home on Sunday evening in what Montgomery County Police are investigating as a potential suicide.
To many who passed through the 9:30 Club's doors since he started working there in 1997, Burdette was simply "that guy"—a massive physical presence decked out with intimidating body modifications, but also someone whose personality did not match expectations. To everyone but the unruliest patrons, Burdette was a generous, welcoming figure.
"I know I can be an intimidating presence," Burdette said in the February 2009 issue of Washingtonian, "but I don't try to carry myself that way."
And with rare exceptions, he didn't. Burdette relied more on his psychology degree from the University of Maryland's honors program when handling the 9:30 Club's customers, and his past stints as a camp counselor and tutor. During shows, he used that background to deter problem customers—under-21's trying to sneak a drink, people passing around joints—before they became real trouble. (He once told the Washington Post his nastiest brawl happened at a show by a Neil Diamond cover band, of all things.)
"Josh was one of the wisest people you would ever meet," 9:30 Club owner Seth Hurwitz said in a statement yesterday. "When you talked to him, you hoped you would be lucky enough to retain some of that wisdom, but you had to make the effort as he never forced it on you. But every word he spoke was from one of the kindest, most thoughtful and well-centered folks you could hope to have in your life."
Burdette also adopted his reputation as "That Guy," working into his email and a Facebook page, which since his death has filled up with memorials. In his statement, Hurwitz called it a "fantastic joke" that people assumed Burdette was a menacing presence when, in fact, he was rather kind.
"Here was this scary looking dude that was a complete contradiction of his appearance. I think everyone felt a little ashamed and learned from that," Hurwitz said. "We were all so proud to have him as our ambassador to the world. He was as 9:30 as 9:30 gets."
UPDATE 9/6/13: The Maryland chief medical examiner's office determined yesterday that Burdette's death was a suicide. Wednesday would have been his 37th birthday.