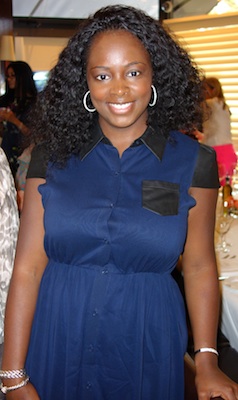 Two years ago, when Tiffany Bowen was in Dallas and six months pregnant with twins, and her husband, football player Stephen Bowen, was in New York on the verge of negotiating a switch from the Dallas Cowboys to the Washington Redskins, she went into premature labor. In emergency surgery, she delivered two boys, Skyler and Stephen, each weighing only a pound and a half. The next few weeks were spent in crisis, a period in which Stephen underwent open-heart surgery and Skyler struggled with an infection that ultimately claimed his life. The Bowens' despair was intense, almost crippling for Tiffany, but it made her aware of the issue of how jurisdictions deal with premature babies who die—including some, she says, that treat the bodies as medical waste—and it moved Bowen and her husband to do something about it. They started a foundation, named Skyler's Gift after their son, to provide help and support to others who find themselves in similar situations.
"Skyler's Gift was started because while in the hospital I met people who also lost a baby, and some of them could not afford a funeral," Bowen said during a Thursday luncheon at Cafe Milano. "Depending on what state you are in, if you have a baby that passes away in prematurity the baby is considered medical waste. You cannot pick up the baby and give the baby a proper funeral. Some places will do a mass cremation." Bowen says when she learned of these policies she was perplexed. "How is this happening in this country? How can we have mothers walking away from the hospital with nothing?"
The aim of Skyler's Gift is to provide funds for a funeral and grief counseling. Bowen says an infant burial can typically cost $5,000 but the foundation is able to negotiate a better price, about $1,500. Since the foundation started last year, she says, it has provided funds for 45 funerals, about two or three a month. "That's all we do," she says. "We want to do more."
Both Bowens are in a special MBA program at George Washington University that is designed to give NFL players a business foundation for life after football. Stephen Bowen signed a five-year contract with the Redskins, and Tiffany says that when that ends, they plan to make the foundation their full-time work, to grow it to provide more programs for families who have experienced the loss of a premature baby and to fund research into reducing premature loss.
It was a serious subject for what otherwise was a convivial and chatty lunch for 20 women, many of them mothers. It was hosted by Bowen and Elizabeth Thorp, who publishes the family-centric website Poshbrood and who was recently named the new editor of Capitol File magazine.
When not talking about her children—in addition to her now-two-year-old son, she has a four-year-old daughter—or her studies or business, Bowen talked about life as the wife of a Washington Redskin. Yes, she was at the season-opening game on Monday night (the Bowens share a suite with tackle Barry Cofield and his family), but she will not travel to Green Bay for this Sunday's game against the Packers. "I only go to home games," Bowen says. "And the whole family comes down from New York, about 25 people." For away games she likes to be home alone with the children, watching on TV like any other fan. Does she get nervous during games? "No."
Given that the Dallas Cowboys and the Washington Redskins are arch-rivals it was interesting to learn she did not find the switch from one team to the other to be difficult. "It's a business," she says. When her husband was about to re-sign with the Cowboys, she says, "the Redskins called and said, 'Before you sign those papers, we can do better.'" She was excited about moving to DC, though was dismayed to learn they would actually live in Leesburg, Virginia, which is close to Redskins Park in Ashburn, basically Stephen's "office." Therefore, she says, when she comes to DC, "I make a day of it."
Skyler's Gift sponsors fundraising events, including a Bowl-a-Thon with NFL players. Tiffany said she's found the Redskins in particular to be very supportive. "Even though it came out of such tragedy we're happy to be helping so many people," she says. "Life is going so great right now."