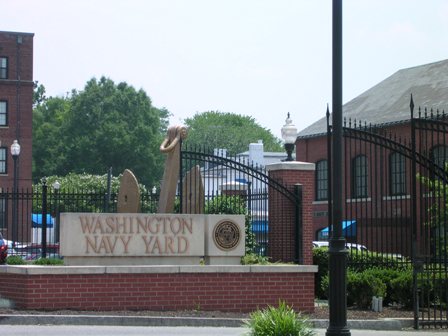 Skip to most recent update, posted at 4:23 PM
At least 13 people are dead in a mass shooting at Washington Navy Yard and several more are injured in an incident that law enforcement officials are still trying to make sense of. The carnage broke out this morning when a gunman opened fire, and police say it is possible two more shooters are at large. Two of the victims are police officers, including a Metropolitan Police Department officer who was taken to a local hospital and rushed into surgery.
The Navy says the first
three shots were fired
about 8:20 AM at the headquarters of the Naval Sea Systems Command. The shooter is described as an adult black male, about six feet tall and of medium complexion, police say. Leon says he has barricaded himself inside the building. Police say there are reports of multiple types of guns being fired, including a handgun and an assault rifle.
One of the officers who was struck is an MPD officer who was transported to a nearby hospital, police spokeswoman Saray Leon tells Washingtonian. The other officer struck is a base officer. The status of the other victims is still unknown.
The building, at 1333 Isaac Hull Ave., SE, houses about 3,000 employees. Navy officials have issued a "shelter in place" order for all personnel on the yard.
Police are flooding the area around the Navy Yard in Southeast DC. Several bus routes are being redirected around the Navy Yard, and the New Jersey Ave., SE entrance to the Navy Yard Metro station is closed. US Capitol Police, the FBI, and other law enforcement agencies are also responding to the scene.
The Federal Aviation Administration has issued a ground stop order halting all incoming and outgoing traffic at Ronald Reagan Washington National Airport.
President Obama has been briefed several times on the situation this morning by his counterterrorism advisers, the White House says. "The President directed his team to stay in touch with our federal partners, including the Navy and FBI, as well as the local officials," the White House says in a statement. "We urge citizens to listen to the authorities and follow directions from the first responders on site."
UPDATE, 10:44 AM: The ground stop has been lifted at National Airport, but flights face delays of up to an hour and a half as traffic resumes, according to the FAA.
UPDATE, 10:50 AM:
There are conflicting reports about whether there might be more than one shooter involved. Although Buclatin, the Navy spokesman,
tweets that
there are two shooters, MPD officials say there is still only one confirmed gunman.
Additionally, DC Public Schools has closed down several facilities in the vicinity of the Navy Yard, including Amidon-Bowen Elementary, Eliot-Hine Middle School, Tyler Elementary School, Eastern High School, Brent Elementary School, Van Ness Elementary School, and the Jefferson Middle School Academy.
UPDATE, 11:11 AM: The Metropolitan Police Department says that family members of Navy Yard employees can meet their loved ones at Nationals Park parking lot B, located at South Capitol St. and N St., SE.
UPDATE, 11:36 AM: Washington Hospital Center has received three victims from Navy Yard, including a Metropolitan Police Department officer who was wounded in both legs, the hospital's chief medical officer, Dr. Janis Orlowski, says at a news conference. The other two victims at the hospital are civilians, a woman who was hit in the shoulder and another woman who was struck in the head and hand. All three victims are said to be in critical condition, but the prognosis is positive. "Their chances at survival are very good," Orlowski says. The wounded MPD officer is in surgery right now.
Orlowski adds that Washington Hospital Center it is prepared with operating rooms, trauma units, and a blood bank, and could possibly receive eight to 10 more victims.
UPDATE, 11:54 AM: Personnel at Joint Base Anacostia-Bolling in Southeast DC are also on lockdown in response to the situation at the Navy Yard, though military officials say it is a precautionary measure. "Until the situation at the Navy Yard is secured, JBAB remains temporarily secured, with its entrance gates closed and personnel on the base sheltering in place," the base's commander, Navy Capt. Anthony T. Calandra, says in a statement.
UPDATE, 12:21 PM: MPD Chief Cathy Lanier says at a news conference that one shooter is deceased, but that the numerous law enforcement agencies responding to this morning's rampage are still on the lookout for potentially two more shooters.
One is described as a white male last seen around 8:35 AM wearing a short-sleeved, khaki military-style uniform with a beret and carrying a handgun. The other is described as a black male, about 50 years old, possibly with a "long gun" and wearing an olive fatigue-style uniform. Lanier says it is not confirmed if any of the potential shooters is active-duty military personnel, only that they are wearing military-style garb.
DC Mayor Vince Gray says the mass shooting at Navy Yard is an "isolated incident," and that MPD responded within minutes of getting the first report of shots being fired on the base. And while there are conflicting reports of the number of victims wounded and killed, officials are refraining from offering firm numbers.
"We know there are four wounded that have been removed from the scene," Gray says. "We're still trying to confirm the number of fatalities."
UPDATE, 12:35 PM: Obama called the Navy Yard shooting a "cowardly act" and said he expects a "seamless" investigation by federal and local law enforcement.
"We are confronting yet another mass shooting and today it happened on a military installation in our nation's capital," the president said. Obama was also quick to note the fact that many of the victims work for the military.
"They know the dangers of serving abroad," Obama said. "But today they faced the unimaginable violence they wouldn't have expected here at home."
Between the time Obama took office and this past July, the United States witnessed 19 shooting incidents that have left at least four people dead, according to a
tally kept by Mother Jones
.
UPDATE, 1:13 PM: A spokesman for George Washington University Hospital says one victim was transported there and pronounced dead on arrival. The victim was a man in his 60s with a gunshot wound to the head. His identity is being withheld pending notification of his family, the hospital's spokesman says.
Meanwhile, two broadcast networks reported what they believed to be the identity of a suspected shooter, but
promptly issued retractions
. CBS News and
NBC News both cited Pentagon sources giving a name to a suspected gunman, but Lt. Cmdr. Sarah Flaherty of the Navy's public affairs office told
Washingtonian
there was nothing to confirm those reports. NBC correspondent
Pete Williams
said on the air that the erroneous report stemmed from an ID badge found on the ground near the scene of the shooting.
UPDATE, 2:13 PM: The confirmed death toll is now up to 12, Gray and Lanier said at a news briefing. The MPD officer who was struck is not among the deceased, Gray said. Meanwhile, there is still no known motive behind the rampage. The FBI is also taking over as the lead law enforcement agency in this case.
UPDATE, 3:05 PM: Police are still investigating if there are other shooters in addition to the one who was pronounced dead earlier. But Lanier did provide updated descriptions of the other potential shooters. One is described as a white male between 40 and 50 years old wearing a tan military-style outfit consistent with a Navy uniform, while the other is a black male between 40 and 50 years with a medium complexion and graying sideburns.
Police say the white male wearing a khaki uniform described earlier by Chief Lanier has been identified and is no longer a suspect or person of interest, says Officer Paul Metcalfe, an MPD spokesman. There is no update on the status of the other individual Lanier described earlier.
Meanwhile, workers and military personnel continue to file out of Navy Yard. The US Senate Sergeant at Arms is also recommending that the Senate "shelter in place" for two hours. Law enforcement officials are expected to brief media again at 4 PM.
UPDATE, 3:40 PM: An FBI spokeswoman confirms to Washingtonian that a suspect has been identified as Aaron Alexis. The FBI is asking for the public's assistance in seeking information about Alexis.
With 12 confirmed dead, today's massacre at Navy Yard is the largest single mass-casualty event to hit DC since January 13, 1982, when a Boeing 737 crashed into the 14th Street Bridge, killing 74 people on board and four more on the ground.
UPDATE, 4:04 PM: Bryan Lynn Chaney, a US Army veteran who works in Building 197, says he was trying to get to his office on time when he heard the first shots ring out this morning just two floors above him.
"I heard what sounded like a locker door slamming," Chaney says. After hearing more loud pops a few moments later, he realized something was wrong and started making his way out. "It's probably shots, you need to get out," he recalls saying to himself.
Chaney says he made his way to a triage area across the street as his building evacuated. He then held there for several hours before finally getting out of the yard and making his way down M St., SE into throngs of reporters.
Chaney says he heard five shots in total. "It sounded like a .22 to me," he says. "But an AR-15 sounds similar. It's more powerful."
He adds that he and his coworkers were not thrown into a state of panic by the initial gunfire, but it was obviously a jolt. "Not a state of shock, but we didn't know what was going on," Chaney says.
UPDATE, 4:11 PM: Navy Yard employees who rushed off the base without collecting their belongings will be able to get home for free tonight courtesy of Metro. Station managers and bus drivers are being notified to waive fares for any Navy Yard worker who left their things at the office today, Metro spokesman Philip Stewart says.
UPDATE, 4:23 PM: The number of fatalities now stands at 13, according to Mayor Gray.