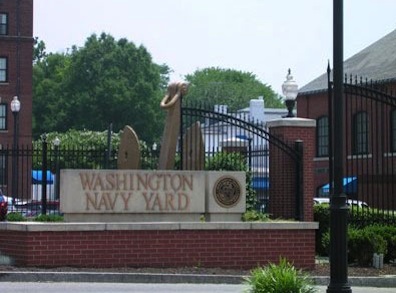 Suspected Navy Yard shooter Aaron Alexis traded fire with police officers from a cubicle on the third floor of the Navy Yard building before being killed in a fusillade of rifle fire, according to officers at the scene.
MPD veteran officer Dorian DeSantis, of the MPD's Emergency Response Team fired the weapon that killed Alexis, witnesses said, but not before Alexis had killed 12 people and wounded three more.
"When we arrived on the floor there were still 50 or more Navy employees on the floor," one DC officer told Washingtonian. "He [Alexis] still would have been cranking off if we didn't stop him."
The officer declined to speak on the record because the investigation into the shootings was still underway.
DC police and members of the US Park Police encountered Alexis at the same time, officers
said.
Members of MPD's Emergency Response Team were at their base near Blue Plains, about
a mile from the Navy Yard, when they fielded radio calls about an active shooter.
At 8:45 they jumped into two armored vehicles and about 15 marked police cars and
raced to the Navy Yard.
"The scene was totally chaotic," one officer said. "I'm surprised we didn't see cops
shooting cops."
Fifteen members of the ERT squad and US Park police officers responded to reports
of an officer down on the third floor of building 197 of the Naval Sea Systems Command.
They arrived to find Officer
Scott Williams, who had been shot in both legs.
"I've been hit," he said.
ERT members, armed with semi-automatic rifles, were checking room to room on the building's
west side in the neighborhood of room 3200 when bullets started coming at them. There
were offices to the right and cubicles to the left. The gunfire was coming from the
cubicles.
"He was shooting at them; they were shooting back," one officer said. "Some of his
rounds were penetrating rooms and lodging in file cabinets."
Officer DeSantis, 49, got a clear shot and fired at Alexis, according to witnesses. According to police on
the scene, Alexis was shot multiple times in the face and upper body.
DeSantis has been an MPD officer for more than 20 years, according to fellow officers.
Previously he served in the military and is an avid runner who has participated in
the Marine Marathon. DeSantis is on administrative leave and could not be reached
for comment.
MPD has not identified the officers involved in the Navy Yard operation and could not confirm DeSantis's role.
This post has been updated from a previous version.