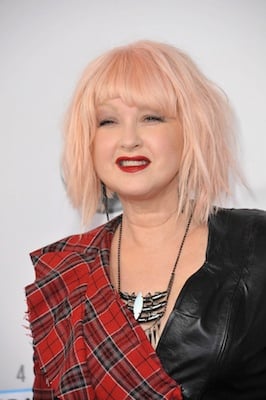 On the stilettoed heels of her Tony Award for Broadway's
Kinky Boots, '80s legend
Cyndi Lauper performs Friday at George Washington University's alumni weekend.
Lauper's headlining concert marks a stop on the pop icon's She's So Unusual tour,
which wrapped up its Australia leg earlier this month. The tour commemorates the 30th
anniversary of her debut album. At her Friday show, as she's done on every stop of
the tour, Lauper will sing the entire
She's So Unusual record, including perennial karaoke favorites "Girls Just Wanna Have Fun" and "Time
After Time."
Already an Emmy and Grammy winner, Lauper snagged the 2013 Best Original Score Tony
for
Kinky Boots. The Broadway hit follows a struggling shoe factory that turns to making footwear
for drag queens to stay afloat. Harvey Fierstein adapted the book from a 2005 film
of the same name and invited Lauper to write the music. In her acceptance speech in
June, she gratefully acknowledged Fierstein's call, saying, "I'm so glad I was done
with the dishes and answered the phone."
Lauper plays the Charles E. Smith Center Friday at 8 PM.
Tickets are still available
exclusively to GW alums who register in person for Alumni
Weekend at the Marvin Center
Great Hall starting Friday at 11:30 AM. For more
information, visit GW's
website.