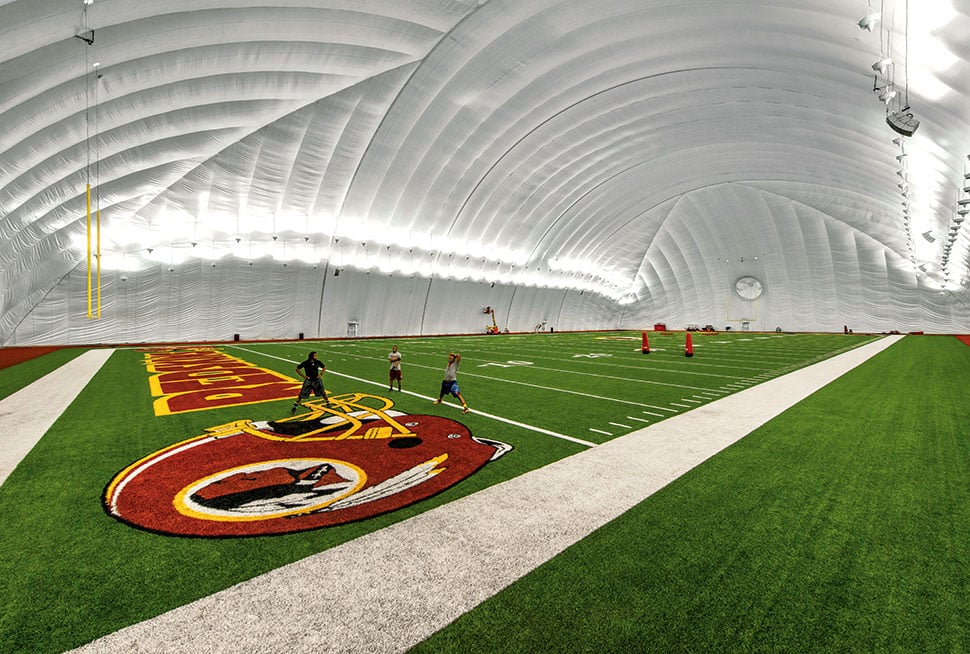 When is an NFL practice field not just a practice field? How about when it's under a $1.2-million, 100,800-square-foot bubble? This one-year-old Redskins indoor training facility looms over the Ashburn skyline at nearly 100 feet tall. Air Structures American Technologies—a New York company that has specialized in such facilities since creating one for Harvard in the 1960s—built the bubble using 8,450 yards of industrial-grade coated polyester-vinyl fabric, held up by 5.7 million cubic feet of air and anchored by steel rods in concrete.
Project manager Paul Sabo says the bubble can withstand 100-mile-an-hour winds and a 25-pound-per-square-foot snow load.
The bubble was the first stage of a $30-million upgrade at Redskins Park, partly funded with taxpayer dollars. The facility also includes a training room, a weight room, and a dining room with a full-time chef.
The dome comes with an explosive sound system. For pregame practices, the system sometimes blasts the roar of a stadium crowd. The climate-controlled bubble can be made hot, to prepare for outdoor games in the South, or cold, to replicate northern climates. Coach Mike Shanahan says he opts for the neutral environment—no wind or rain—because it eliminates distractions so players can hone specific skills.
This article appears in the September 2013 issue of The Washingtonian.