We may be experiencing one of those strange heat waves this week, but that's not stopping us from enjoying the fall bounty. And this recipe combines two fall favorites into one to create a flavorful breakfast.
These healthy pumpkin pancakes topped with apples come from the book Recipe Rehab, which features classic recipes without the extra calories. But after whipping up this meal one recent Saturday afternoon, we can promise you won't know the difference.
Serving size: 12 pancakes
Nutrition per serving: 331 calories, 5 grams fat, 98 milligrams cholesterol, 389 milligram sodium, 10 grams protein, 4 grams fiber, 63 grams carbohydrates.
Ingredients
Spiced apple topping:
1 tablespoon unsalted butter
2 apples, thinly sliced
2 tablespoons dried currants or raisins
½ teaspoon pumpkin pie spice
1 tablespoon agave nectar
Pancakes:
2 cups all-purpose flour
¼ cup agave nectar
2 teaspoons baking powder
2 teaspoons pumpkin pie spice
½ teaspoon salt
¾ cup canned pumpkin purée
3 large eggs
½ cup unsweetened applesauce
2⁄3 cup plain almond milk
Nonstick cooking spray
½ cup nonfat plain Greek yogurt
Directions for spiced apples:
1) Melt butter in skillet on medium-low heat. Add apples and currants (or raisins) and cook until apples are soft, about 15 minutes.
2) Add pumpkin pie spice and agave nectar. Cook for another 5 minutes.
3) Remove from heat and keep warm.
Directions for pancakes:
1) Whisk together flour, baking powder, pumpkin pie spice, and salt in a large mixing bowl.
2) In a separate bowl, whisk pumpkin purée, eggs, applesauce, agave nectar, and almond milk until well combined. Add pumpkin mixture to the bowl of dry ingredients.
3) Coat a large nonstick griddle with cooking spray and place on medium heat. Pour dollops of batter onto griddle. Cook pancakes on both sides until golden brown.
4) Serve two pancakes per person, topped with spiced apples and a dollop of Greek yogurt.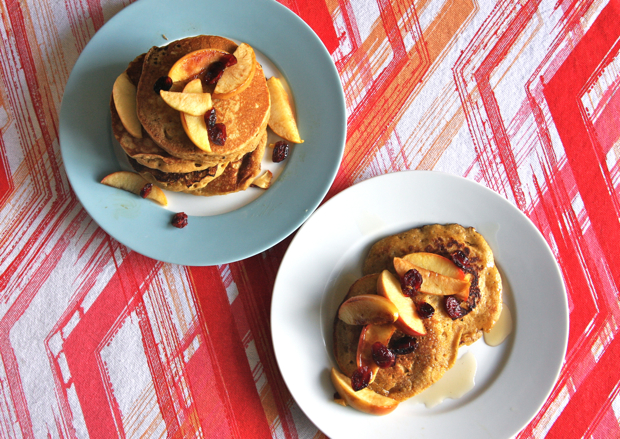 You Might Also Like: