Despite the unsettled feeling of a city in the midst of a government shutdown, the
25th gala for the PEN/Faulkner Award for Fiction was just about a perfect evening
according to
Michael Witmore, the president of the Folger Shakespeare Library. "I got read to," he said as he
sat down to dinner, "and now we will be fed. Read and fed." To Witmore's left,
Frazier O'Leary, a Cardozo High School English teacher who is in his second year as president of
the PEN/ Faulkner Foundation board, beamed. Earlier he'd heard novelist
Christopher Tilghman call the foundation "a jewel" and to declare the event "what this young city does
best."
While the shutdown does not directly affect the Folger or PEN/Faulkner, Witmore and
O'Leary noted that the city's overall mood is subdued, and that carries into everything.
Not subdued was the glorious sunset visible as the evening began, with the Capitol
dome as the centerpiece, causing guests to stop, stare, shoot a smartphone photo or
two, and likely wonder if any progress was being made in the House chamber.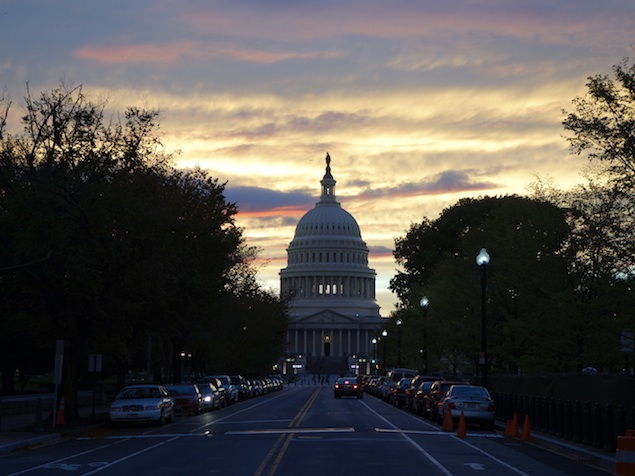 The PEN/Faulkner award celebration is, as Witmore said, about literature and good
food. After an hour of cocktails there's an hour of readings. A dozen noted writers
take a turn on the Folger stage, reading an essay on a set theme, which this year
was "renewal." The authors, in addition to Tilghman, were
Christopher Castellani, whose next book is
The Art of Perspective;
Matt Gallagher and
Roy Scranton, who co-edited a collection of war short stories,
Fire and Forget: Short Stories From The Long War;
Mary Kay Zuravleff, whose latest novel is
Man Alive!;
Yiyun Li, named one of the
New Yorker's Twenty Under Forty writers;
Anthony Marra, author of
A Constellation of Vital Phenomena, his debut novel;
George Pelecanos, author of 19 novels and a writer for HBO's
The Wire,
The Pacific, and
Treme;
Mona Simpson, whose novels include
The Lost Father;
Meg Wolitzer, who wrote
The Interestings; and
Tiphanie Yanique, author of
Land of Love and Drowning, her first novel, scheduled for release next summer. Marra, Pelecanos, Zuravleff
are from or live in the Washington area.
All the readings were impressive, especially the one from 15-year-old Rachel Page
of Woodrow Wilson High School, who participates in PEN/Faulkner's Writers in Schools
program. Her essay won in a competition of more than 100 entries. She took the stage
before a full-house of adults in formal dress and calmly, confidently told a story
that paralleled the evolution of a moth from egg to winged creature to the path of
cancer in a human from molecular cell to tumor to eventual remission. She received
a long, loud round of applause.
Calvin Trillin served as the evening's emcee, as he has in years past. "Anybody who emcees here
is somebody who is standing in for the late George Plimpton," he said. "One of the
things I treasured about George was his accent, partly because he was the only one
who had that." Plimpton, a PEN/Faulkner regular and favorite, who died in 2003, spoke
in a mash-up of upper crusty lockjaw, lilt, and a hint of marble mouth. "A person
of less self-confidence and aplomb would be suspected of having some sort of speech
impediment," said Trillin to audience laughter.
"I have to admit when I heard the theme for tonight's readings, renewal, the first
thing that popped into my mind was renewing my driver's license," said Trillin. While
none of the writers touched on the DMV in their essays, there were stories of library
cards, war, the wounded, love, life, and family.
The dinner served complemented the intellectual component: The salad was a mosaic
of fall vegetables, followed by roast pheasant and apple pie with cheeses and sour
cream ice cream.