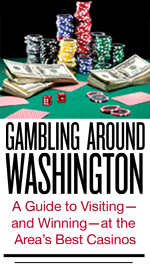 Flintstone, Maryland; 301-784-8400
Distance from DC: 130 miles
Best reasons to go: This casino, not far from Cumberland, is a delight. The employees are as friendly as any I've encountered at any casino, not just in Maryland.
Other bets: The 558 slot machines are remarkably current for such a small facility, and they seem loose: Minutes after entering, I won $175 on Pawn Stars, a game based on the TV show. There's one craps table and four blackjack tables, with a range of minimum bets that make it fun for occasional players as well as gambling enthusiasts.
What you should know: There are no traditional poker tables or wagering on horses, unfortunately, but this gem is a good bet in another way: It's a scenic drive to a breathtaking part of Maryland—and once there, you can spend the night (or a few) taking advantage of the other resort offerings such as golf and watersports.
This article appears in the October 2013 issue of The Washingtonian.