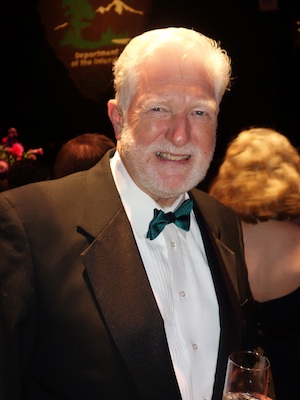 A few of the stories you may have missed while paying too much attention to dreary
news that Congress and the White House continue to not be able to make a deal.
• Virginia congressman Jim Moran is growing an Edwardian mustache and beard, which
first appeared about a month ago and is now nearly full Santa Claus. You can catch
it on C-SPAN.
• Rielle Hunter, best known as "John Edwards's mistress" from when he was a presidential
candidate, wrote an essay for Huffington Post called, "I, Rielle Hunter, Apologize."
• Arianna Huffington may have made a bad deal with AOL, according to the Smoking Gun.
The sleuth site says it has a court filing
showing that when AOL paid a reported $315 million to buy the Huffington Post, Huffington
only scored about $21 million, some of it in stock options.
• Joe Biden found time to shop at Brooks Brothers, and
our own Melissa Romero caught
the action:
• A new restaurant opened on Capitol Hill, of all places.
What excellent timing, right?
We're sending good luck wishes to Rose's Luxury at 717 Eighth
Street, Southeast.
• Jim VandeHei, a cofounder of Politico, was promoted
to CEO.
• Washington's own Katie Couric still has her talk show, despite hot rumors that the ax is
falling.
• Tom Hanks stopped by the Newseum for a premiere of his new movie,
Captain Phillips.
• Bob Costas and Glenn Beck both joined the Redskins name fray. The
LA Times headline might say it best: "Bob Costas
versus Glenn Beck in Washington Redskins nickname
flap."
We can't help but wonder, who's jumping into this debate next?
• An engaged couple robbed of a Jefferson Memorial wedding tied the knot on The Colbert Report.
• Twitter introduced more relaxed rules for direct
messages: You can now received
message from any followers (if you want).