Hollywood and Washington got together for some laughs at the Kennedy Center Sunday
night on behalf of
Carol Burnett, one of the legends of American sketch comedy. The 80-year-old Burnett was awarded
the 16th Mark Twain Prize, which has been given in the past to Bill Cosby, Steve Martin,
and George Carlin, among others. Those who came to sing her praises included colleagues,
friends, and a younger generation of women comedians, many of whom are graduates of
Saturday Night Live and who consider her one of their pioneers.
Tina Fey opened the show;
Amy Poehler did a routine as her "assistant" with the help of half a dozen dogs;
Rashida Jones and
Maya Rudolph told anecdotes and introduced clips from Burnett's enduring moments on television
and in movies.
David Rubenstein, the chairman of the Kennedy Center board, was the warmup act, though he didn't dare
try to do comedy. Not in this company. He came onstage to thank the show's underwriters
and producers, and appeared later to introduce Burnett. The concert hall was nearly
packed, with Burnett sitting prominently in a red-draped box adjacent to the stage
with her husband,
Brian Miller, and daughters
Jody and Erin Hamilton. In the President's Box were House minority leader
Nancy Pelosi and DC Representative
Eleanor Holmes Norton. The room had the lights, cameras, and other trappings of a TV show, because it was
being taped by WETA for broadcast on PBS on Sunday, November 24.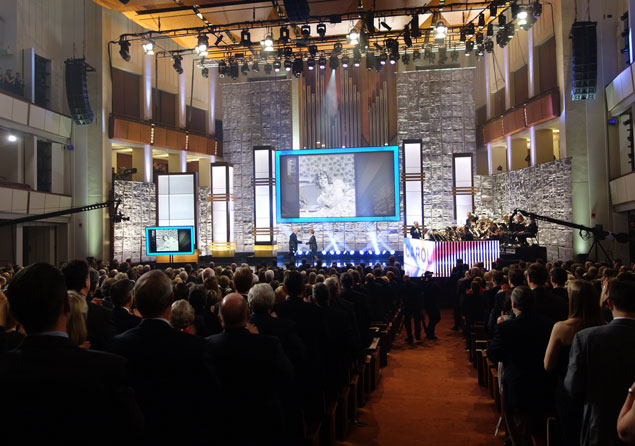 Fey, who won the Twain Prize in 2010, got the laughter started right away when she
called Ted Cruz "the First Lady of American comedy," after which she said, "This concludes
the topical joke portion of the evening." Fey noted Burnett's six Emmys, five Golden
Globes, eight People's Choice Awards, and a Peabody, plus earlier tributes as a 2009
Kennedy Center Honors recipient and a winner of the 2006 Presidential Medal of Freedom.
"It really is a testament to her professionalism that she's showing up for this. She
doesn't
need this," Fey said. She also spoke about Burnett's influence on her own show business
career. "I can't tell you how much you mean to me. I love you in a way that is just
shy of creepy," she told Burnett. She said a lot of "female comedians are gonna come
out here tonight and say, 'Oh, I loved watching your show when I was growing up. You're
my idol.' But I'm saying it first, which means I am the most sincere."
Burnett, like the audience, smiled and laughed throughout Fey's homage. In fact, she
beamed through tribute after tribute.
Lucie Arnaz, the daughter of another comedy legend, Lucille Ball, blew her a kiss.
Tim Conway and
Vicki Lawrence recalled their years as her costars on
The Carol Burnett Show.
Bruce Vilanch paid tribute to her costumes by designer Bob Mackie.
Julie Andrews talked about their 55-year friendship, and
Tony Bennett, in fine form, sang "The Way You Look Tonight."
Martin Short, another well-known comedian and SNL alum, said, "Tonight is one of those nights
when the 1-percenters come together to honor one of our own." He referred to Burnett
as being another redhead in comedy (in addition to Lucille Ball), and added one more
to the list: Donald Trump, whom he said "only makes us laugh because he looks like
a bouncer" in a lesbian bar.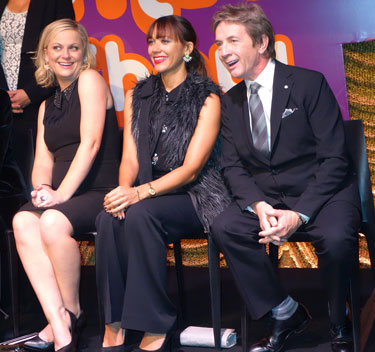 Poehler was the only member of the cast to appear in character, as "Roz," the supposed
Burnett assistant. She came out dressed practically as a bag lady with a group of
very well-behaved dogs on leashes. She wanted the audience to know that Burnett's
signature ear tug—the way she ended her TV show—was "a secret signal to me go find
hot young men in the audience. How do you think Martin Short got his start?" Poehler
ended the bit by saying, "My back is giving out," collapsing to the stage floor, and
then being piled upon by the adorable pooches. Andrews, who met Burnett just after
her own star-making run in the Broadway hit
My Fair Lady, said that since then, "we've laughed, we've been naughty, and we've stood by each
other through so many moments. My squeaky-clean image goes right out the window when
I'm with her."
Burnett appeared to a long standing ovation and spoke heartfelt words about the show
and the cast, including some well-aimed humor. She said the Twain Prize was a "long
time coming," but knew why. "There are so many people funnier than I am, especially
here in Washington."
A late-night dinner followed in a tent on the Kennedy Center terrace. Before the meal
of cobb salad, beef tenderloin, and autumn apple crisp with bourbon ice cream, there
was first a cast photo. Given that it was a group of comedians it was entertaining
to watch them jockey for seats, be playful with each other, and mug for the "class"
photo. Though there was an official event photographer, it seemed that every guest
at the dinner pressed close with cameras to get their own keepsake photo. At midnight
the party was still going strong, but then why not? Most of the cast and crew were
on California time.