In the history of Well+Being's Food Diaries series, we've featured some interesting diets. Meals have ranged from pre-workout liver capsules to the simple, Paleo-friendly meals of Olympic rower Esther Lofgren.
But this week's food diary takes it to a whole new level. Local ultra runner Nicklaus Combs documented his entire food and beverage intake during the October 4 Hot Wild Oak Trail 100 Miler in Virginia. The race is actually 108 miles and involves 32,000 feet of elevation gain.
The total number of snacks and drinks he ingested: 68.
And it all must've helped: Combs won the race. Check out the list of foods he ate to fuel along the way.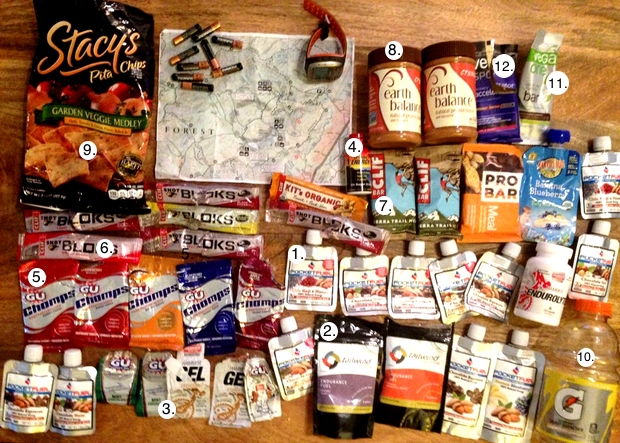 1. 16 (1.8-ounce) PocketFuels
2. 2 (3.8-ounce) TailWind Endurance Fuels
3. 6 Energy GU and Hammer gels
4. 2 5-Hour Energy shots
5. 6 GU Chomps
6. 6 Cliff Shot Bloks
7. 2 Clif Kit's Organic Bars
8. 8 Earth Balance peanut butter sandwiches
9. 1 bag of Stacy's Pita Chips (garden vegetable medley)
10. 32 ounces of Gatorade
11. 1 Vega One bar
12. 1 Vega Sport Recovery Accelerator
1 vegan burrito (not pictured)
3 cups of vegetable soup (not pictured)
32 ounces of soda (Coke, Mountain Dew, and ginger ale) (not pictured)
Disclaimer: The Food Diaries series is intended to be inspirational and is not an endorsement of each individual's diet.
You Might Also Like:
Are you a local athlete or health, fitness, or nutrition expert with a love for food? E-mail wellbeing@washingtonian.com to find out how you could be featured in our Food Diaries series.