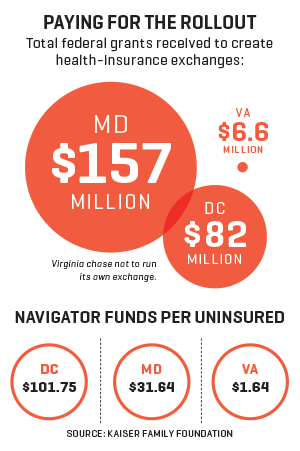 Meet William Joachin, one of the very few Americans who can speak authoritatively about the Affordable Care Act. Earlier this fall, Joachin spent a week becoming a certified ACA "navigator," along with 90 other trainees at the Omni Shoreham Hotel in DC's Woodley Park. Besides studying the available health plans and how to enroll through the city's healthcare exchange, he played "Obamacare Jeopardy!" and participated in team-building exercises, such as crafting 100 plastic straws into a structure that could safely catch an egg dropped from shoulder level. (His team's egg didn't break.)
Navigators "are here to give people a soft landing," explained Erin Loubier, an attorney who was one of Joachin's instructors. "We know sometimes things work on the first try and sometimes they don't."
The ACA's success may hinge on navigators like Joachin, a 25-year-old from Hayward, California, who works for La Clinica del Pueblo, a community clinic in DC's Columbia Heights, which pays him in part from a federal grant. After graduating from UC Berkeley in 2011, he came east for an internship at the Woodrow Wilson International Center for Scholars, where he researched human-rights abuses in Mexico. He felt he could help people more directly at the clinic.
"When you think about human-rights abuses, you usually think about dictators and stuff like that," says Joachin, whose parents fought in El Salvador's civil war and who was 12 before he lived in a house with electricity. "But I've always thought of health care as a human-rights issue."
Since the exchange opened, Joachin has been fielding questions at the clinic—mostly in Spanish—about preexisting conditions and enrollment during the shutdown. Despite glitches on the District's website, he says, "I'm optimistic."
This article appears in the November 2013 issue of The Washingtonian.