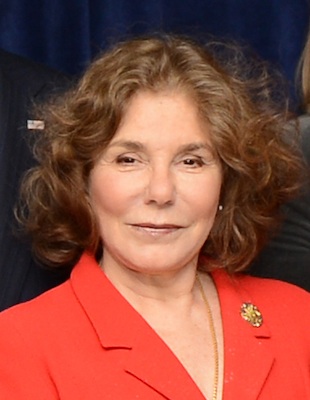 Teresa Heinz Kerry, who was hospitalized in July after suffering a seizure, has given a revealing interview in which she talks about her "miraculous" recovery but notes pointedly that the process has cost her time with her husband, Secretary of State John Kerry. Does she see him? "Of course not," she told the Pittsburgh Post-Gazette, because she can't travel with him on his frequent and "exhausting" trips. Heinz Kerry said, "I know he's good at this job, but it's not a life, and some days are hard. But I believe in what he is doing—even when I disagree with him, which I sometimes do." She willingly lets her husband travel the globe. "I keep thinking I'm doing it for the world," she said.
Some other nuggets from the exclusive interview, which took place in the Heinz Endowments offices in downtown Pittsburgh:
• In her story, reporter Mackenzie Carpenter described the 75-year-old heiress as looking "a little more tired, perhaps, but with the signature tousled hair." In an e-mail exchange with Washingtonian, Carpenter added, "I was struck by how focused THK seemed, and her sense of humor was completely intact."
• Heinz Kerry said the seizure was caused by the after-effects of "a bad concussion that was not properly treated at all [. . .] from a very bad fall." She indicated the fall happened four years ago. "There were a lot of signs of impacts over the four years."
• After the seizure in Nantucket, she was hospitalized at Boston's Massachusetts General Hospital, and spent three weeks at Spaulding Rehabilitaton Hospital.
• Heinz Kerry attributes her recovery, which she said her doctors describe as "miraculous," to brain exercises. "I have a great feeling of gratitude in my heart that my brain is still working." She also said people don't understand "there is an anticipatory quality to managing this. . . . They think if you look good, you're fine, you're great. You're actually thinking clearer, but not for long." Her focus is better, she said, but at the beginning, "maybe for 30 minutes."
• She is not permitted to drink alcohol. "I'm mad about that."
• Among other therapies to stimulate her brain, she credits an app called Lumosity, which she plays on her iPad, and she's spreading the word. "I've got two foreign ministers doing it."
Which could mean that maybe she's seen her husband occasionally, or he's handing out iPads as gifts on official visits.