Enhanced Listing
Cameo Kitchens, Inc.
Attention to detail and commitment to customer satisfaction have earned Cameo Kitchens, Inc. a place among the most respected custom kitchen firms in Virginia and the Washington Metropolitan area. We attribute our extraordinary success to adhering to the basic principles of design skill, craftsmanship, and customer service. We enjoy top ratings of both the Washingtonian and Luxury Homes magazines, the websites Houzz, Checkbook and Angie's List, and have been featured in numerous national publications.
Contact: 7297-M Lee Highway, Falls Church, VA 22042 | 703-532-4545
Enhanced Listing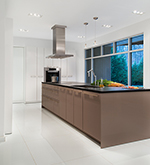 KONST SieMatic
Since 2004, KONST has shared the SieMatic story with architects, designers, and homeowners across the Washington metro area. SieMatic is an industry leader in the high-end kitchen segment with unyielding commitment to innovative engineering and manufacturing excellence. It starts out as a new kitchen. But the limitless possibilities soon become apparent: the colors, the forms, the styles, the materials—and, above all, the love for detail.
Contact: 7550 Wisconsin Ave., Suite 130, Bethesda, MD 20814 | 301-657-3800
Absolute Kitchens By appointment; 8230 Boone Blvd., Suite 170, Vienna; 703-917-0744; absolute-kitchens.com.
Aidan Design 4701 Sangamore Rd., Suite L3, Bethesda; 301-320-8735; aidandesign.com.
Boffi 3320 M St., NW; 202-337-7700; boffigeorgetown.com.
Bradford Design 7817 Oldchester Rd., Bethesda; 301-320-0930; bradforddesignllc.com.
Bulthaup 3324 Cady's Alley, NW; 202-338-2220; washington.bulthaup.com.
Cameo Kitchens 7297-M Lee Hwy., Falls Church; 703-532-4545; cameokitchensonline.com.
Davida's Kitchen & Tiles 435-A&B E. Diamond Ave., Gaithersburg; 240-361-9331; davidaskitchenandtiles.com.
Dee David & Co By appointment; 2724 Dorr Ave., Suite 220, Fairfax; 703-560-6601; deedavidandco.com.
Design House Kitchens & Appliances 8220 Wellmoor Ct., Savage, 301-498-0001; 14101-H Parke Long Ct., Chantilly, 703-263-2700; designhousekitchens.com.
Design Solutions 1598-D Whitehall Rd., Annapolis; 410-757-6100; dsikitchens.com.
Ikea 10100 Baltimore Ave., College Park, 301-345-6552; 2901 Potomac Mills Cir., Woodbridge, 703-494-4532; ikea-usa.com.
Jack Rosen Custom Kitchens 12223 Nebel St., Rockville; 301-984-9484; jackrosen.com.
Jennifer Gilmer Kitchen & Bath 6935 Wisconsin Ave., Chevy Chase; 301-657-2500; gilmerkitchens.com.
Kitchen & Bath Factory 4624 Lee Hwy., Arlington; 703-522-7337; kitchenandbathfactory.com.
Kitchen and Bath Studios7001 Wisconsin Ave., Chevy Chase; 301-657-1636; kitchenbathstudios.com.
The Kitchen Guild DC, 202-362-7111; Alexandria, 703-518-5006; Fairfax, 703-323-3900; McLean, 703-893-8900; kitchenguild.com.
Lobkovich Kitchen Designs By appointment; 8000 Towers Crescent Dr., Suite 150, Vienna; 703-847-0601; lobkovich.com.
Montgomery Kitchen & Bath 15906 Luanne Dr., Gaithersburg; 301-417-6661; mkitchen.com.
Pedini 3340 Cady's Alley, NW; 202-640-1976; pedinidc.com.
Poggenpohl Georgetown 3324 M St., NW; 202-342-9111; washingtondc.poggenpohl.com.
Reico Kitchen & Bath Multiple Maryland and Virginia locations; reico.com.
Thornett Kitchens By appointment; Bethesda; 301-365-2767; thornettkitchen.com.