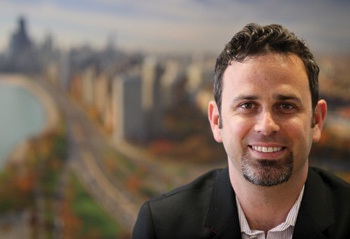 Most municipal transportation directors don't have groupies. But Gabe Klein has legions of rabid fans in two cites where he turned policies from "cars only" to bikes, pedestrians, and streetcars. Klein ran the District Department of Transportation from 2008 to 2010 under former Mayor Adrian Fenty, laying the groundwork for Capital Bikeshare, DC Streetcar, and other innovations that have changed the way Washington gets around and made him an idol of transit and smart-growth advocates.
When Fenty lost his reelection bid, Klein was quickly snapped up by Mayor (and former White House Chief of Staff) Rahm Emanuel to do the same job in the Windy City. After two and a half years transforming how Chicago moves (and winning another legion of fans), Klein, 42, announced last week that he was stepping down to move back to DC full-time to be with his family and figure out his next venture. Klein tells Washingtonian he's not interested in running for office, as some have urged him to do in the past—but whatever he's planning, it'll probably excite his fans.
In the time in you spent running transportation in Chicago, can you compare that experience to your stint running DDOT?
Both my mayors—Mayor Fenty and Mayor Emanuel—were awesome bosses. Very driven, focused on innovation, and very open to new ideas and implementing new strategies. This is why the innovation in government is happening at the city level. When I came into DDOT I didn't have any sense of how government worked. I didn't even know what some of the acronyms meant. I always say my ignorance was very helpful to me because I tried to get things done at a private-sector pace.
You had about two years with DDOT.
And then Adrian unfortunately lost the election. So I was going back to the private sector. Rahm Emanuel, I was just really impressed by his vision for Chicago and thought, it'd be really cool to make more change in another city and to show people and make it more livable.
When you left DDOT we were a few months into Bikeshare, the Streetcar tracks were still being constructed. Have you kept an eye on how DC's transportation has progressed?
I'm back in DC about once a month. I talk to folks in DC, whether it's my compatriots at DDOT or people who live in the city. My friend Harriet Tregoning, who runs the planning department. I have kept tabs and know what's going on—the good, the bad, and some of the challenges they've had on various fronts.
What are some of the challenges? We keep waiting for the streetcar.
People think you get to sit around and think about the streetcar and bike lanes, and reality 90 percent of your time is spent running around doing other things, including running your agency, balancing the budget, paving. The streetcar, it's a very complex project. I think people are going to fall in love with it and they're going to want to see it all over the city.
You're talking about going back to the private sector. Are you going to go out west with Adrian?
Well, that's not my plan. I talk with him quite a bit. I actually ran into him in San Francisco a couple weeks ago.
What's your next act? Is it related to transportation?
I think you'll see me working in technology and transportation. I'm not really interested in going to work for someone, but I wouldn't rule it out. I'm interested in doing something entrepreneurial, which could be an ongoing concern or something I start myself.
And is there anything you learned in Chicago that you want to take forward to your next venture?
Cities have a lot of needs. They're no longer in a position to provide all of the consumer services they want to, and they will be relying more and more on the private sector to provide high-quality, low-cost-to-the-government services.
What does a city like DC need?
Look, DC is exploding in growth and I think it's because of the work that Anthony Williams did and then Adrian Fenty. Success begets growth and success. Despite a lot of disruption in the government with a lot of the Council members who have gone to jail and ethical questions, the private sector is making up for where the public sector isn't able to.
It seems like for you, the credit goes to Fenty and Williams, maybe less so for Vince Gray.
I lived there for [Marion] Barry, the Control Board, Williams, and Fenty, so I had a front-seat view. I know what it looked like when I left and I know what it looks like now and I think that the momentum is there and I think that's the important thing. I think it was created during Williams and Fenty. The current government has been a little bit stuck because of the issues swirling around it. I'm not saying anybody's innocent or guilty, they've been a little bit stuck.
Years ago you briefly mentioned you might one day flirt with a run for DC Council. Are you coming back here to do that?
No. And I was never really that interested in running for DC Council. Some people really wanted me to do it and because they were so passionate I thought about it. But I'm not really a legislator, I'm a doer.