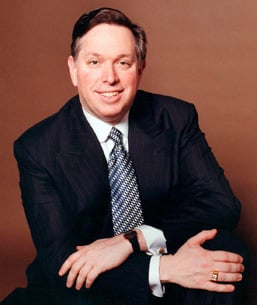 Kennedy Center President Michael Kaiser will head to the University of Maryland when his time running the performing arts center expires next August, the university and the Kennedy Center announced today.
Kaiser, 60, plans to transplant his side project, the DeVos Institute for Arts Management, to College Park, and go fulltime as an adviser and consultant to arts organizations.
Since taking over the Kennedy Center in 2001, Kaiser has spent a significant amount of time advising other institutions as well as foreign governments on artistic programming and funding. That effort received a financial boost—and name—in 2010 from Michigan philanthropists Dick and Betsy DeVos, whose family founded Amway.

The DeVos Institute was originally meant to stay with the Kennedy Center through 2017, but in making plans for his exit, Kaiser says he preferred to affiliate with a university.
"I was in discussions with David Rubenstein," Kaiser says in a phone interview, referring to the Kennedy Center's chairman. "We decided it would probably be better situated in a large academic situation. The University of Maryland seemed to be the best fit."
Kaiser says he met with several other schools, most of which are in the Washington area, though he will not name the runners-up. In taking his work to UMD, Kaiser plans to also join the faculty for its graduate program in nonprofit administration and add a specialty in arts organization management.
University officials also say Kaiser will be involved in the school's Clarice Smith Performing Arts Center, though he says he'll be more of a spectator than programmer.
"It's not just reputation, it's that he's a prodigious worker," UMD President Wallace Loh tells Washingtonian. Loh says he and Kaiser started talking over the summer about the DeVos Institute
"There was a mutuality of interests," Loh says. "My goal has always been to elevate UMD as an arts institution. A possibility that the DeVos Institute was relocating was a perfect strategic fit."
Although Loh says Kaiser will "actually be working here," Kaiser will continue to do a fair bit of work on the road, including locales such as Ireland, Croatia, and Vietnam, where the DeVos Institute is currently running its programs. (He spoke to Washingtonian from St. Paul, Minnesota.) While Maryland is absorbing Kaiser's institute, the organization will continue to receive funding from its outside benefactors. Kaiser earned $1.4 million last year; Loh does not know what he will be paid once he gets to Maryland.
Kaiser could get another side project when he moves up to College Park—aiding Maryland's potential partnership with the Corcoran Gallery of Art. The financially troubled museum and art school signed a memorandum of understanding with UMD in April to explore a strategic merger.
Lawyers for both institutions are still working out the details, Loh says, but he has asked for Kaiser's take. Kaiser says the Corcoran has been "vaguely mentioned" in his conversations with Maryland, but he "could certainly imagine a conversation on that topic."
But Loh might insist on having Kaiser help out if the Maryland-Corcoran partnership materializes. "I've talked with him," Loh says. "If we do have a partnership and I'm hopeful we will, I can't imagine the Corcoran and UMD would not want to avail itself of the wisdom of someone who's turned around so many arts organizations."