Alberto Medina's diet and fitness philosophy is pretty simple: "I eat real food and try to move as much as possible." The personal trainer runs PLInnovations, an in-home personal training business, with his wife, Elise. When he's not training clients, Alberto is making sure his own workouts are "diverse and fun," whether he's strength-training in his home gym, biking along the Mount Vernon Trail, or challenging himself at a local park's obstacle course. Read on to see how Medina keeps his diet in check and stays energized between workouts.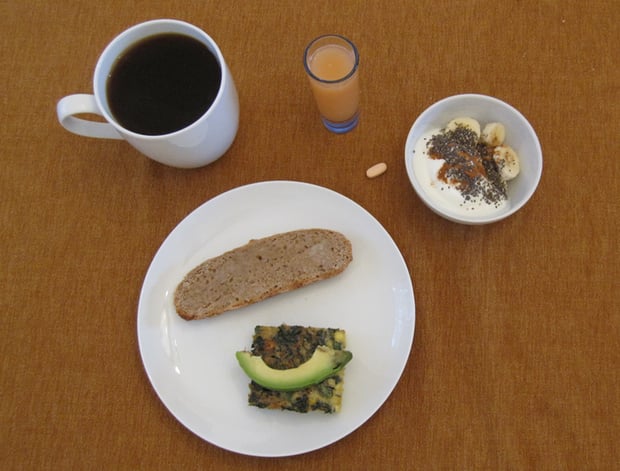 Breakfast: "Before heading out to train clients I fueled up with a slice of crustless quiche packed with kale, onions, green beans, and homegrown peppers and topped with avocado. Elise usually bakes the quiche on Sunday afternoon using whatever vegetables we have in the crisper, and we reheat it on weekday mornings for a really easy and nutritious breakfast. I also ate a slice of homemade whole-wheat toast (we are dedicated to Jim Lahey's no-knead recipe), buttered, and a sliced banana with plain yogurt, cinnamon, and chia seeds. No matter what breakfast looks like, I always take a multivitamin with a shot of grapefruit juice and enjoy black French-press coffee."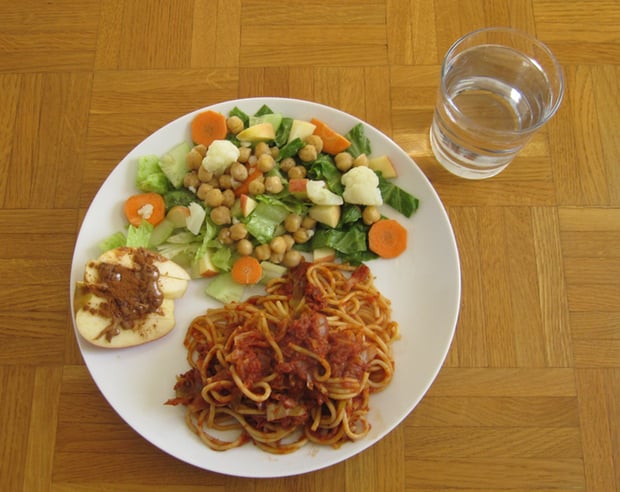 Lunch: "I had a break between clients and was able to sit down to a hot lunch—one of the perks of my line of work! I had leftover spaghetti with homemade marinara sauce (which Elise had managed to stuff with about six different vegetables) and a huge salad of romaine lettuce, cucumbers, carrots, chickpeas, roasted cauliflower, apple, and a little homemade vinaigrette dressing. I enjoyed half of a crisp, juicy Gala apple slathered with almond butter and cinnamon, and, of course, lots of water."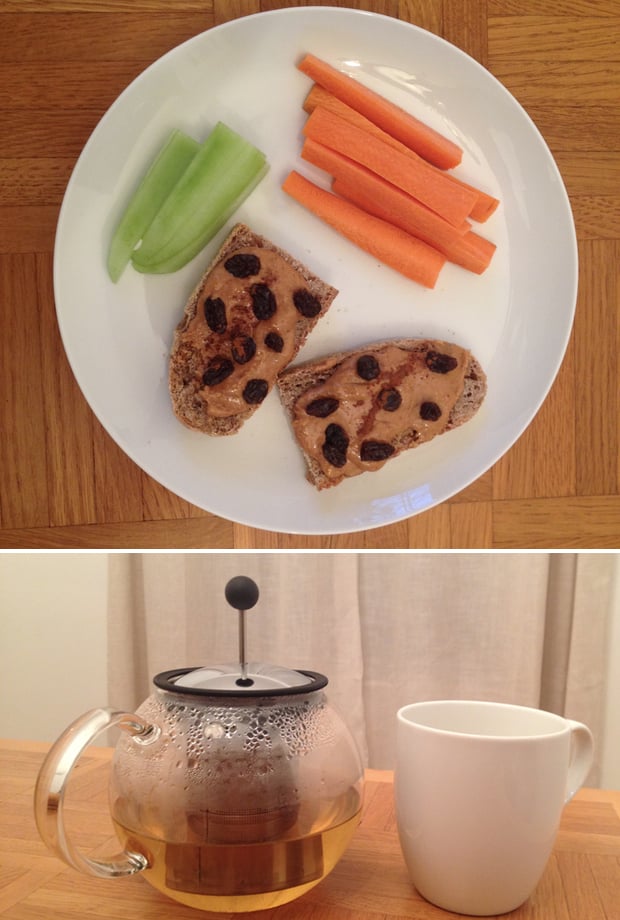 Afternoon snack: "We always keep a container of sliced veggies in the fridge for snacking, so I grabbed carrots and cucumber, along with another slice of homemade bread, peanut butter, cinnamon, and a few raisins. This was the perfect balance of protein, carbs, and fat to fuel my afternoon workout and tide me over until dinner. I also had a big mug of green tea since it was a frigid, windy afternoon and I needed something to warm me up."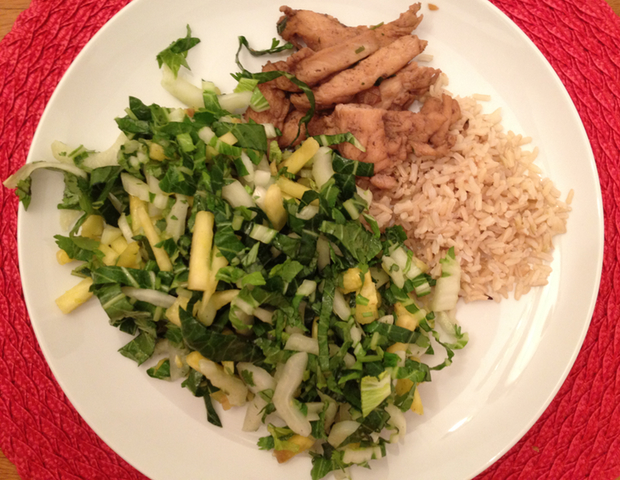 Dinner: "Chicken breasts marinated with garlic, ginger, lime, and a little teriyaki sauce, steamed brown rice, and a refreshing salad of bok choy, pineapple, and cilantro with a little olive oil, salt, and pepper. This type of meal is a pretty typical weeknight dinner for us because it's easy to throw together and so nutritious. We usually make a batch of one grain, like brown rice, for the entire week, so at dinner that is one less thing for us to prepare. Since we keep greens ready in the fridge, we only need to cook the protein we've chosen for the night to have a delicious, well-balanced meal on the table quickly. It makes weekday dinners a little less hectic to have two out of three components already prepped and ready to eat."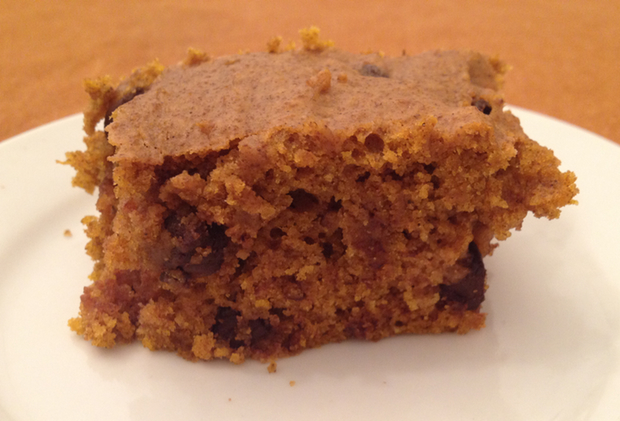 Dessert: "I closed out the day with a homemade chocolate chip pumpkin bar. Like many people during this time of year, we've been using puréed pumpkin in everything from our morning oatmeal to brownies. Adding pumpkin is an easy way to increase the nutritional content of baked goods without sacrificing flavor."
Disclaimer: The Food Diaries series is intended to be inspirational and is not an endorsement of each individual's diet.
Are you a local athlete or health, fitness, or nutrition expert with a love for food? E-mail wellbeing@washingtonian.com to find out how you could be featured in our Food Diaries series.