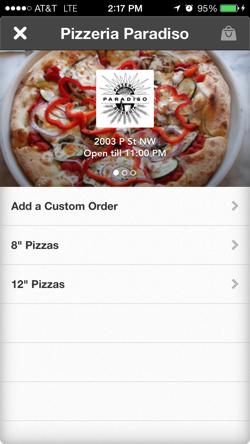 "You have all these beautiful restaurants that don't do delivery," says Bastian Lehmann, attempting to sum up what he sees as the biggest impediment separating Washington's smartphone owners and the scads of new eateries opening every week.
Lehmann, the founder and CEO of Postmates, a San Francisco-based company that dispatches couriers to deliver items from practically any store or restaurant in less than an hour, says that DC is the ideal city for his smartphone application. And Lehmann probably couldn't have picked a better day to launch here, with a city full of federal workers who got the day off in fear of a snowstorm that didn't amount to much.
But the novelty of Postmates, which expanded to New York in August, isn't just weather-related. Lehmann says that by introducing courier service, Postmates is massively expanding the roster of restaurants that deliver, even if the establishments themselves don't advertise as such.
In press materials, the company says it has the menus of several hundred restaurants loaded into its software, including many higher-end places. However, it only works if the restaurant offers take-out, so while Le Diplomate's brasserie offerings are available—for people actually willing to pay $30 for beef bourguignon after its been sitting in a container and getting sloshed around on the back of some stranger's bike—you won't find Rasika on there.
Unlike other delivery services like Seamless, which coordinates directly with participating restaurants, Postmates places the order for the user, then dispatches one of its independent couriers to pick up the items and rush them to the customer. Lehmann says in DC, he's already signed up 200 people looking to make a few extra bucks by running people's errands in yet another extension of the smartphone economy created by enterprises like Sidecar or Airbnb.
Postmates tacks on between $5 and $14 for delivery, depending on the distance, with 75 percent of that charge going to the courier, Lehmann says, though deliveries are free through Friday. Users can also track their couriers on a map in real time.
For now, Postmates, which is available for iOS and Android devices, is mostly limited to Northwest DC, though it could extend to the rest of the city if it takes off quickly.