I'm tucked into my turquoise-colored silk cocoon, hanging two feet above ground and watching huge, white snowflakes fall outside the window above me.
In other words, I'm in complete bliss.
I've just completed an aerial yoga workshop at Spark Yoga, the newest fitness studio to open in Arlington. After two hours of swinging, upside down inversions, and lifted down dogs and planks, I'm already contemplating how I can swap my bed for one of these 21-foot-long, 9-foot-wide aerial silks instead.
Not to say that aerial yoga is easy. Sure, instructor Debra O'Reagan makes the most complicated poses look effortless, but she's been teaching and practicing aerial yoga for years. "I even have silks hanging in my basement and in my backyard," she says.
But aerial yoga is just one component of Spark Yoga, which opened December 7 and is owned by yoga instructor Susan Park. The spacious studio features a gigantic, 3,000-square-foot studio for hot yoga and vinyasa yoga, as well as yoga classes with weight-training. Across the lobby is where you'll find a smaller studio with cushioned flooring, seven hanging silks for aerial yoga, and equipment for barre classes.
There are changing rooms, plus men's and women's locker rooms complete with showers and bathrooms, and lockers for storage. It's a gym-goer's one-stop shop for all things yoga, barre, and Pilates—and the only studio in Northern Virginia to offer aerial yoga.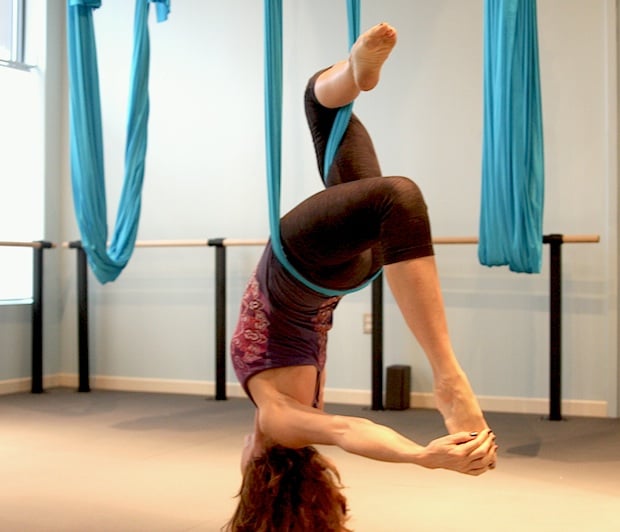 Sunday's workshop breaks down everything to expect at the studio's weekly Monday night aerial yoga and aerial bliss classes, from basic instructions on how to properly sit in the silk to the importance of upper body and core strength to perform poses successfully and without injury.
O'Reagan even warns the three of us about the potential for motion sickness and nausea, and the dangers of practicing aerial yoga if you have arthritis, injuries, or balance issues. "Aerial yoga is not for everyone," she says.
But boy is it fun. More than an hour of instruction flies by, and it's time for a shortened aerial yoga session, complete with down dogs, child's pose, planks, tucks, high lunges, and warrior I and II poses. But we're still itching for more, and convince O'Reagan to teach us an inversion.
"Here's the thing: When your body turns upside down, your IQ doesn't always go with it," she says.
I find out exactly what she means when as I wrap the silk around my bum, and slowly flip backwards, my head and arms hanging and legs wrapped around the fabric. I struggle to retain a sense of direction as O'Reagan instructs me to face my palms up and wrap my feet this way and that. (The next Cirque du Soleil trapeze artist I am not.)
But after a few more tries, I'm all smiles upside down, just hanging out.
Spark Yoga. 2201 N Pershing Drive, Arlington; 703-248-9642. $20 to $30 for drop-in classes.