Metro showed off the future of the transit agency's rail fleet today when it introduced the first four of its new 7000-series cars. The cars, which feature modern touches like screens informing riders how far they are from their destination and seats with lumbar support, will replace the oldest cars in Metro's fleet when they are put into service later this year.
Richard Sarles, Metro's chief executive, told reporters today that in addition to being more comfortable and technologically advanced, the new cars are also far safer. The transit agency's reputation is still recovering from the June 2009 Red Line crash that killed nine people and injured another 80, and it is also completing two dozen upgrades ordered by the National Transportation Safety Board in the wake of the deadly incident.
The 7000-series cars have an improved crash rating, event recorders, and digital surveillance cameras tracking train operators and passengers. They are also equipped with "anti-climbers," devices intended to keep them upright in the event of a collision. On the inside, the new cars ditch Metro's notoriously gunked-up carpet for slip-resistant (and presumably easier to clean) rubber floors, wider aisles, and more rails for straphangers to grasp onto during the daily commute.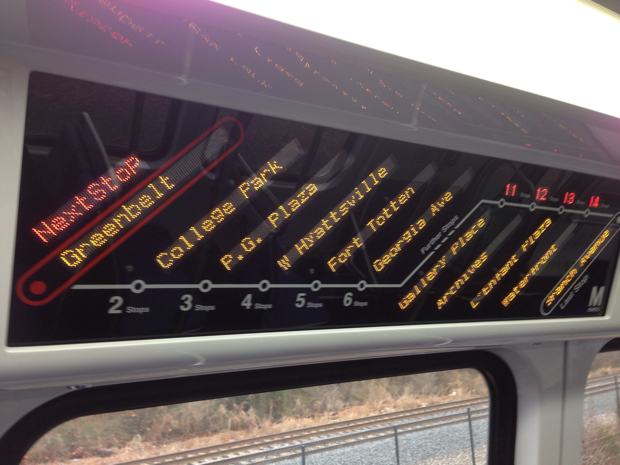 Sarles was joined at the Greenbelt station by several area bigwigs, including DC Mayor Vince Gray, Maryland Governor Martin O'Malley, Senators Barbara Mikulski and Ben Cardin, and Representatives Steny Hoyer and Donna Edwards.
Eventually, Metro plans to replace the first four generations of its rolling stock, the oldest of which, the 1000-series, dates back to the system's founding in 1976. But unlike the previous models, which are all backward-compatible with each other, the 7000-series cars are a "blank slate," as Sarles said. When the new cars debut after several months of testing, they won't be mixed with older segments of Metro's fleet. Metro has 528 cars on order, which will make up more than half the fleet by 2018.