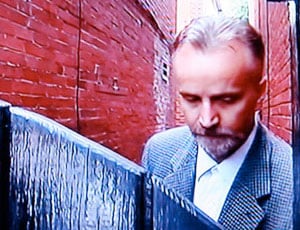 In what has to be one of the most bizarre murder cases in DC history, Albrecht Muth, a Georgetown man who fabricated a colorful life story, and whom psychiatric forensic experts called a liar and con artist, on Thursday was convicted of first-degree murder in the fatal beating of his wife. In August 2011, the body of 91-year-old Viola Drath was found in the upstairs bathroom of the German couple's Q Street townhouse. Muth was arrested and charged soon after, but through hunger strikes and other eccentric behavior managed to make going to trial a stop-and-go process that dragged on and on. In the end a jury needed only half a day of deliberations to find the 49-year-old guilty. He faces life in prison.
Muth was a familiar presence on the Georgetown sidewalks, where he often paraded around, puffing on a cigar, wearing a Gilbert and Sullivan-style olive green uniform complete with riding crop, which he claimed was rightfully his as a general in the Iraqi Army, though the Iraqi Embassy refuted the claim. Muth and his much older wife, a former journalist with diplomatic connections, liked to entertain, and in their home displayed photos of themselves with various dignitaries. Only after the murder did it come out, through interviews with the family, that Viola's children and grandchildren did not trust Albrecht and believed he was only interested in money. Prosecutors said he murdered his wife for an inheritance.
(I was a guest at one of their dinners and, for all the wrong reasons, found it memorable.)
Prosecutors and superior court judge Russell Canan doggedly pursued bringing Muth to trial, and he just as doggedly found ways to delay the process, often frustrating his court-appointed lawyers. At the outset he wanted to represent himself, which did not happen. Most often his tactics involved a hunger strike, an idea he said was dictated to him in private conversations with the Archangel Gabriel.
At various times he was declared incompetent to stand trial, then competent, then incompetent, depending on the state of his health. More than once he was transferred from the DC jail to United Medical Center and to to St. Elizabeths Hospital for psychiatric evaluation. Two court-appointed experts conducted an evaluation in 2012, which included interviews with Muth and with members of Drath's family. "Mr. Muth knowingly traffics in illusions, not delusions; since incarceration at the DC Jail, he has been steadily trying to con everyone by creating the illusion of a delusion," wrote forensic psychologist Mitchell H. Hugonnet. "Mr. Muth appears to have been running the con and scam of his life in the wake of being charged with the alleged First Degree Murder of his wife of two decades, Mrs. Viola Herms Drath Muth."
Canan repeatedly postponed the trial. When it finally happened, according to WTOP, "Muth participated by videoconference but did not testify." Sentencing is expected in March.