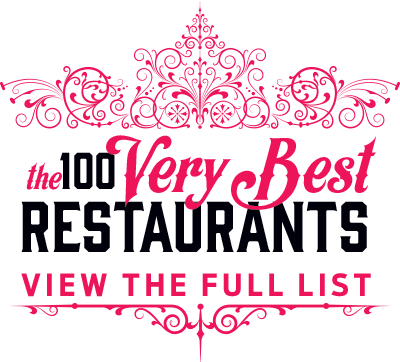 This modern Greek restaurant is a popular lunchtime attraction for the Tysons corporate crowd, but it's at night that the place goes all glowy and candles warm up the slick, earth-toned dining room designed to evoke an Aegean village. Start with a sampler of dips such as an olive-oil-doused fava-bean purée, dill-flecked tzatziki, or tangy roast eggplant. Then graze on rounds of small plates—the kitchen turns out delicate spanakopita, crispy nuggets of cod, and grape leaves drizzled with a lemony sauce inspired by avgolemono soup. Heavy on rich béchamel, a hunk of moussaka makes for a hearty main course—we like to balance it with a Greek salad of cucumbers, red onion, tomatoes, feta, and capers.
Open: Monday through Friday for lunch and dinner, Saturday for dinner.
Don't Miss: Grilled haloumi cheese; lentil soup; Greek-style meatballs; grilled swordfish skewers; baklava.
---