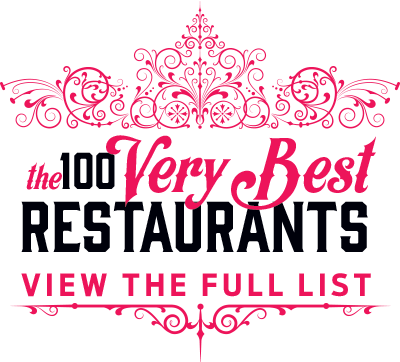 The Japanese-food scene has grown immeasurably in recent years, with a flood of izakayas and ramen joints making this venerable haunt feel like something of a relic. But if it lacks relevance, it doesn't lack charm. In an era of thumping beats and unbuffered surfaces, here's a sanctuary where you leave your shoes at the door and communicate in whispers while the waitstaff anticipates your every need. Chef Gene Itoh mans the sushi counter as his father did before him, executing a fixed-price tasting menu that proceeds, somewhat unevenly but with stately calm, from small plates to sashimi. This last course is the highlight. In fact, the way to maximize your pleasure is to supplement your meal with à la carte sushi: a slab of yellowtail belly, sweet spot prawns, and a gorgeously marbled slice of salmon.
Open: Tuesday through Saturday for lunch and dinner, Sunday for dinner.
Don't Miss: The chef's omakase changes frequently, but recent highlights have included fried langoustine; clam-and-monkfish soup; nigiri of flounder; and grape granita.
---