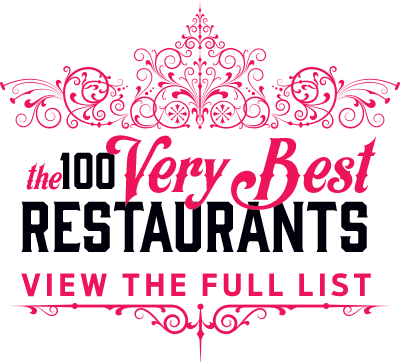 So many restaurants are so cripplingly self-aware that from the moment you step inside them, you sense the holding of a collective breath. Not here. The glass-enclosed space all but shouts whimsy, and then you take a peek at chef Tim Ma's menu. Ma isn't the biggest name on the restaurant scene, but we daresay nobody is having more fun. His cuisine is eclectic in the extreme, with shrimp 'n' grits and mussels in saffron-coconut broth sharing space with a braised beef-cheek sandwich and beer-battered fries. But what unifies these disparate tastes and traditions is the exuberance of their preparation and the happy, festive air they call forth. Look around the room and you'll see laughter, sharing, a conversation that never flags. Come dessert—a lineup as serious as it is playful, including chocolate purses and yuzu-lime tart—you're certain to be smiling, too.
Open: Monday through Friday for lunch and dinner, Saturday and Sunday for brunch and dinner.
Don't Miss: Crème fraîche chicken wings; chicken-liver pâté; seared scallops with coconut risotto; Moroccan chicken; mochi.
---