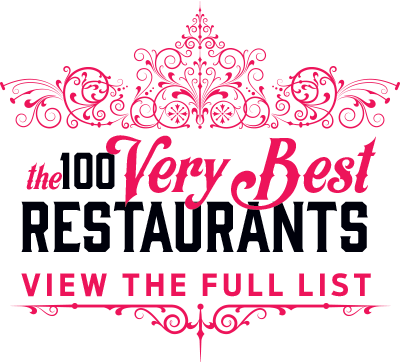 It's a terrific time to try both the low-key cafe and the formal dining room at Frank Ruta's Cleveland Park stalwart. The more casual room's two most famous dishes—roast chicken and a cheeseburger—have never tasted better, and a seasonal salad of warm vegetables in walnut-anchovy dressing honors gorgeous ingredients with beautifully balanced flavors.
In the hushed dining room, choose from three- or five-course prix fixe menus featuring lovely fish dishes such as cardamom-rubbed, rare-grilled tuna, and fluke crudo with passionfruit sabayon. Despite the occasional disappointment—roasted red peppers overpowered one clunky salmon-and-shrimp dish—this remains a best bet for special-occasion dining.
Cafe open: Monday through Friday for dinner, Saturday for brunch and dinner. Dining room open: Tuesday through Saturday for dinner.
Don't miss: In the cafe: Salad with beets and hazelnuts; brodetto, a broth with fennel, halibut, and shrimp; cookie plate. In the dining room: Pan-roasted sablefish; gnocchi; kabocha-squash agnolotti; wood-grilled venison; chocolate torte.
---