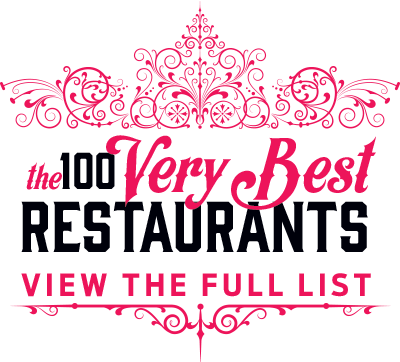 There have been lots of shifts in the Michael Landrum empire over the past year. First, his much-loved Ray's Hell-Burger closed in Arlington. Then he abruptly sold his Silver Spring steakhouse, Ray's the Classics, to a longtime employee—it's now called simply the Classics. What hasn't changed at Landrum's Arlington flagship is the consistency of the kitchen and quality of the beef, whether a pepper-crusted filet mignon or a mammoth cowboy-cut rib eye. Nor has the terrific value: At a time when most big-ticket steakhouses charge handsomely for sides, creamed spinach and smooth mashed potatoes are included with your steak. Salads and starters are sized for sharing, though you'll likely want to keep a bowl of rich, sherried crab bisque for yourself.
Open: Daily for dinner.
Don't Miss: Deviled eggs with steak tartare; bacon-and-blue-cheese salad; broiled crab royale; Brazilian strip steak with "piranha sauce"; hanger steak with béarnaise or brandy-mushroom sauce; New York strip with blue cheese; lobster mac and cheese; Key-lime pie.
---