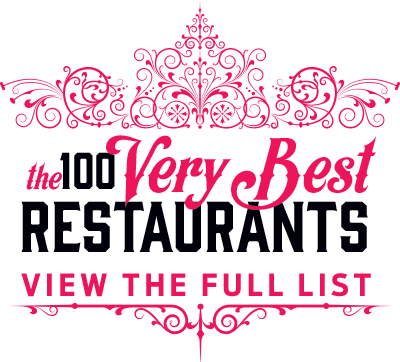 This snug, no-reservations dining room—the most exciting debut of 2013—marries the energy and derring-do of New York's Momofuku Noodle Bar with the warmth and rootedness of Charleston's McCrady's. Chef Aaron Silverman, who logged stints in both of those kitchens, bears little evidence of tentativeness or straining for a first-timer at the helm, and his joyful staff works with uncommon assurance.
The menu pulls in influences from all over the globe. To dig into his smooth Vietnamese pâté, haunting and rich as a bowl of pho, or to spear a forkful of his flattened gnocchi, stuffed with fennel and mint, is to appreciate what can be accomplished when you bring playfulness together with precision. The few entrées are an homage to the shared plates for two at Komi. Lay the long, luscious slices of smoked brisket on griddled toast, give it a good schmear of horseradish cream, add some pickled cabbage, and there you have it: the best barbecue in DC.
Open: Monday through Saturday for dinner.
Don't miss: Pork-sausage-and-lychee salad; pickle-brined fried chicken; cacio e pepe; foie gras with French toast and cinnamon ice cream.
---