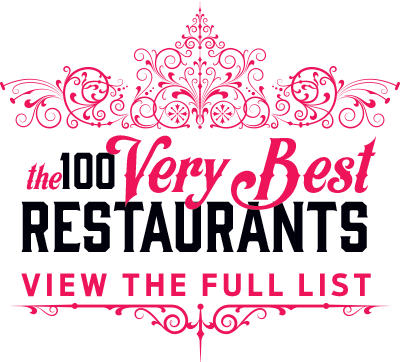 The minute you step inside this charming bungalow, you'll feel as if you've crashed a lively, low-key dinner party. That enviable vibe is what every wine bar and bistro from here to LA is so desperate to pull off, and Vin 909 makes it look as if it isn't even trying. You see that same sort of grace in much of the cooking. Chef Justin Moore's compositions are smart and never cluttered, and the flavors always sing, whether you're diving into a miniature crab roll garnished with pellets of bacon or a luscious burrata drenched in olive oil. The pizzas, with crusts as crisp and thin at the center as crackers, are worth a drive; the amped-up Margherita is a contender for finest pie in the area, while a variation with spicy soppresatta,wild-boar meatballs, and provolone is like a great, overstuffed Italian sub in pizza form.
Open: Tuesday, Saturday, and Sunday for dinner, Wednesday through Friday for lunch and dinner.
Don't Miss: Shrimp with fennel rémoulade and grits cake; steamed clams with curry; butterscotch pudding; chocolate pot de crème.
---