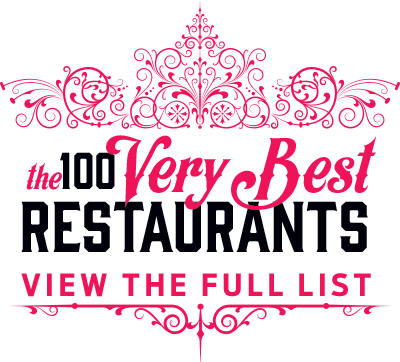 The plaid-shirted servers might seem straight out of Portlandia—"The sun is much gentler on our greens in the fall, so they're really tender and lovely right now," one said recently—and all passionately extol chef/owner Spike Gjerde's devotion to from-scratch cooking and locavore sourcing. There are handmade accents everywhere, from the home-brewed ginger beer that perks up the Gov't Mule cocktail to the fish-pepper hot sauce that arrives with a round of wood-roasted oysters.
Brunch dishes, snacks, and desserts are particular standouts: Gjerde's attention to detail is so keen that even a plate of sliced apples with pecan butter is a marvel, and family-dinner classics like chicken and biscuits and beef stroganoff are eminently satisfying. Need another reason to make the trip up I-95? The firewood-stacked room is one of the most atmospheric spaces on this list.
Open: Monday through Friday for dinner, Saturday and Sunday for brunch and dinner.
Don't miss: Crab dip; mac and cheese; crabcakes; roasted sausages; sundae with marshmallow fluff and chocolate sauce; Snake Charmer cocktail, with cider and rum. 


---