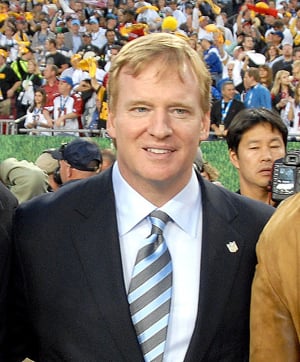 The NFL season is drawing to a close on Sunday, but the Oneida Indian Nation, which has waged a season-long campaign against the name of Washington's football team, is also planning for a robust off-season.
The Oneidas took another shot at the Redskins today following NFL Commissioner Roger Goodell's season-ending press conference, during which Goodell was asked by a reporter if he would call a Native American person a "Redskin" to his or her face.
"This is the name of a football team, a football team that has had that name for 80 years," Goodell said. "That has presented the name in a way that is honorable to Native Americans."
The Oneidas were quick to disagree with Goodell. "It is deeply troubling that with the Super Bowl happening on lands that were once home to Native Americans"—New Jersey's Meadowlands—"NFL Commissioner Roger Goodell would use the event as a platform to insist that the dictionary-defined R-word racial slur against Native Americans is somehow a sign of honor," Oneida executive Ray Halbritter said in a press release. "Worse, he cites the heritage of the team's name without mentioning that the name was given to the team by one of America's most famous segregationists, George Preston Marshall."
The Oneidas, along with the the National Congress of American Indians, also released a two-minute YouTube clip highlighing Native American history. "Native Americans call themselves many things. The one thing they don't," a narrator says before the video cuts to a burgundy-and-gold helmet.
The video is as slick as any Super Bowl commercial, but with advertising rates going for $4 million for 30 seconds, Oneida spokesman Joel Barkin admits the big game was a bit out of reach. But after protesting against Washington's NFL franchise all year, Barkin says the Oneidas' campaign isn't finished. "It doesn't end with the Super Bowl," he says.
And the Oneidas aren't the only ones decrying the team's name today. DC Council member Marion Barry let loose a string of tweets on the subject.
It's Super Bowl time. 4 Washington,we should reflect not on the loss of games,but our loss of honor. Dan, YOU CAN redeem it.Do what's right

— Marion S. Barry, Jr. (@marionbarryjr) January 31, 2014
Dan, just as I hate the N word, & you hate the K word, they do NOT want 2 be slurred either. U can afford 2 do this. It will be your legacy.

— Marion S. Barry, Jr. (@marionbarryjr) January 31, 2014
Why do these Whiteskins on twitter get so angry when someone challenges them on their cont. use of Redskins slur?Doesn't sound nice does it?

— Marion S. Barry, Jr. (@marionbarryjr) January 31, 2014
C'mon Dan. Let's elevate this conversation. Do you want to be remembered as stubborn or loved for standing up against a racist past?

— Marion S. Barry, Jr. (@marionbarryjr) January 31, 2014
Dan Snyder has said he will "never" change the name.
Watch the National Congress of American Indian's video, "Proud to Be":