Valentine's Day is upon us, and it can be tough to pick a great spot. Here to help: our 100 Very Best List 2014. Below you'll find the top 25 picks and a variety of ways to celebrate, from decadent set menus to casual spots sticking to their regular delicious fare. We can't guarantee a restaurant will be flawless on a major eating holiday, but at least here you're in good hands to start.
28 S. Harrison St., Easton; 410-770-3300
It's business as usual at this charming Easton inn, which makes for a very romantic getaway. Try to book a room at the inn itself; cocktails before dinner in the lounge are a highlight, as is the complimentary breakfast.
24) Zaytinya
701 Ninth St., NW; 202-638-0800
A special Valentine's mezze menu at José Andrés's Mediterranean restaurant includes dishes such as pita topped with caviar and lobster kibbeh ($65 per person), and runs Thursday through Sunday. A regular menu is also available.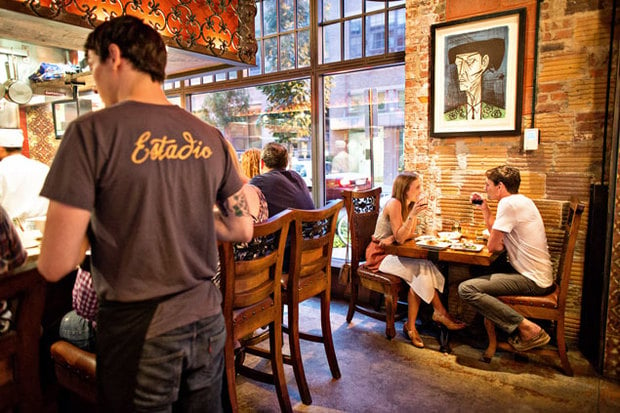 23) Estadio
1520 14th St., NW; 202-319-1404
The only difference you'll find at Mark Kuller's Spanish eatery is that it's taking reservations (and not just the early bird ones). Nothing says romance like pouring cava into your honey's mouth via porron.
22) The Red Hen
1822 First St., NW; 202-525-3021
This neighborhood hangout charms with its rustic decor and smell of the kitchen's wood-burning fire. Thankfully, not a thing is changing a thing for the holiday. Note that a large block of tables are reserved for walk-ins.
21) Mintwood Place
1813 Columbia Rd., NW; 202-234-6732
You'll find the regular menu at Mintwood Place, which is already cozy and romantic. If you're looking for an on-theme dish, the calf's heart salad is delicious.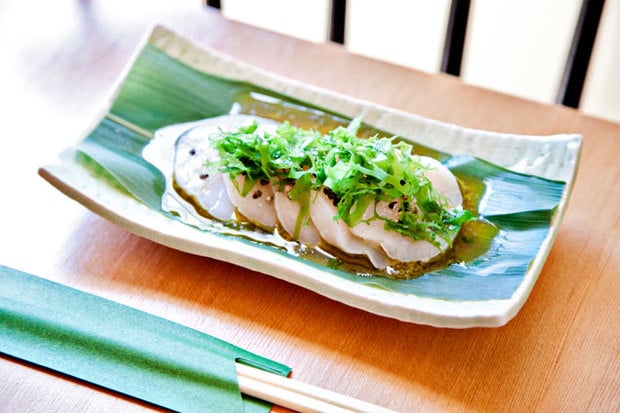 20) Izakaya Seki
1117 V St., NW; 202-588-5841
This stellar Japanese spot is a refreshing find, as is its Valentine's plan for the holiday-averse: nothing out of the ordinary. Plan for a wait; the restaurant texts you when the table is ready, so you can hang out nearby at a sweet drink spot like Vinoteca.
19) Rasika and Rasika West End
633 D St., NW, 202-637-1222; 1190 New Hampshire Ave., NW, 202-466-2500
You'll find four-course menus with special dishes like shrimp chili chocolate at both locations, priced at $85 per person (or $130 with pairings). Reservations may already be full, so the bar is a good bet if your heart is set on duck moilee.
2010 Clipper Park Rd., Baltimore; 410-464-8000
You'll find the regular menu at this destination-worthy spot, housed in a brick foundry. Ask the server about the nightly Valentine's specials.
3529 Connecticut Ave., NW; 202-537-9250
You'll find special reservation times in the cafe at 5:30, 7:30, and 9:30. The set dining room menu always feels like a special occasion regardless.
16) Corduroy
1122 Ninth St., NW; 202-589-0699
Chef Tom Power creates a three-course menu with four to five selections for each course ($78 per person). If available, the tuna with sushi rice and any of his soups are some of our favorites.
480 Seventh St., NW; 202-628-7949
You'll find the regular à-la-carte menu with additional specials, including white sangria with rose petals, Rappahannock oysters with cava, and wild-berry soup.
14) Seasonal Pantry
1314 Ninth St., NW; 202-713-9866
Unfortunately this small supper club is sold out for Valentine's Day weekend. Option two: Pick up ingredients such as fresh pastas and sauces for a romantic meal at home, as the space acts as a market during the day.
13) Fiola
601 Pennsylvania Ave., NW; 202-628-2888
Valentine's weekend brings a five-course menu with all the go-to luxuries: caviar, lobster, Wagyu beef, and more. The menu is priced at $125 per person.
12) Restaurant Eve
110 S. Pitt St., Alexandria; 703-706-0450
Chef Cathal Armstrong creates a special five-course tasting menu for $165 per person. It's tempting to start with bubbly, but we're also big fans of Todd Thrasher's expertly made cocktails.
11) Rose's Luxury
717 Eighth St., SE; 202-580-8889
The good news: Rose's is open for regular business on V-Day, and isn't taking reservations as usual. The bad news: Given typical wait times, you'll want to get there plenty early. The good news again: the upstairs bar is a very pleasant place to wait and sip.
10) The Bombay Club
815 Connecticut Ave., NW; 202-659-3727
If you're looking for the white-tablecloth treatment for your Valentine, this is a top option. The restaurant offers a five-course menu ($85 per person) with dishes such as cardamom lamb chops and lobster with yogurt and morels.
9) Central
1001 Pennsylvania Ave., NW; 202-626-0015
What better evening for a lobster burger? You'll find the regular à-la-carte menu at Michel Richard's swanky spot, as well as a special set menu that has yet to be released.
8) Proof
775 G St., NW; 202-737-7663
The details of the menu have yet to be decided, but you'll find a four-course prix-fixe for $100 per person, with two tiers of optional wine pairings.
1201 24th St., NW; 202-419-6755
Head to this elegant Park Hyatt spot for a decadent four-course menu of dishes such as seared foie gras, brandy-butter-poached lobster, and chocolate-caramel ganache ($85 per person, or $145 with wine pairings).
6) Little Serow
1511 17th St., NW
Cross your fingers for warmer-than-average weather and start queuing up early for a spot at Johnny Monis's Thai place. If you're into extra-spicy fare to heat up your Valentine's Day, this is the place.
5) Marcel's
2401 Pennsylvania Ave., NW; 202-296-1166
Unfortunately the restaurant (which is offering a four-course set menu for $100) is fully booked for the evening. Try calling for cancellations or grabbing a romantic drink at the bar.
4) CityZen
1330 Maryland Ave., SW; 202-787-6006
Go all-out for the holiday with a six-course tasting menu, priced at $165. Currently the only reservations left are for 10 PM.
3) Komi
1509 17th St., NW; 202-332-9200
Reservations are taken a month in advance, but there's always the hope of cancellations, right? Try Little Serow if nothing else (see number six).
2) Minibar
855 E St., NW; 202-393-0812
Two words: good luck. Reservations here are some of the toughest in the city, and are taken well in advance. The adjoining Barmini would be an excellent spot to impress your cocktail-loving honey and try some snacks (again, if you can snag a spot).
1) The Inn at Little Washington
309 Middle St., Washington; 540-675-3800
It always feels like a special occasion at the Inn, and Valentine's Day shouldn't be much different—though knowing chef Patrick O'Connell's flair for fun, themed treats are not out of the question. The weekend may be booked, so you best chance is Thursday, February 13.