The 33-year-old Georgetown Park mall, which is reinventing itself store by store, over the weekend debuted its newest attraction: Pinstripes Bowling, Bocce, and Bistro. A launch party Friday night attracted Georgetown civic leaders, DC Council member and mayoral hopeful Jack Evans, and lots of police, who were there as invited guests. Apart from a chunk of time handed over to speeches—from Evans, Pinstripes CEO Dale Schwartz, and a representative of mall owner Vornado, among others—the guests were treated to as much food, drink, bowling, and bocce as they wanted. The party went on until closing. A spokesperson said 2,000 people had been invited, and it felt like they all showed up; the crowd rivaled the 1,500 invited to the opening of a Joe's Stone Crab franchise ten days ago.
Pinstripes, one of only two public bowling opportunities in DC, wants to be thought of as something more than your typical neighborhood bowling alley. One floor of its duplex layout is the "banquet" room, which has already been booked for several weddings, according to marketing director Sandie Montgomery, who added that not all of those weddings will include time on the bowling lanes. Her point? It's not just a bowling alley. Pinstripes is hoping the banquet area will attract other events, including business meetings, private and holiday parties, and fundraisers. Catering and delivery are available, and a Sunday brunch buffet is in the works.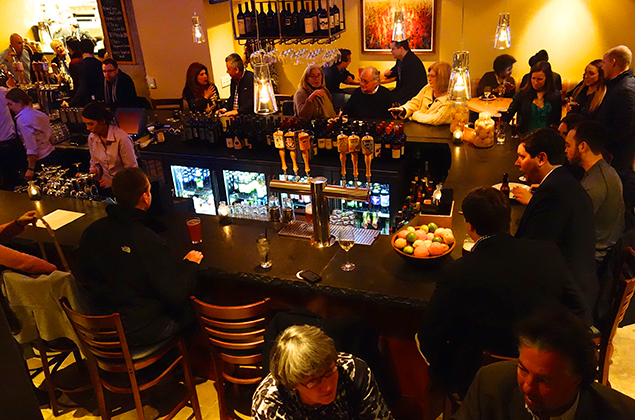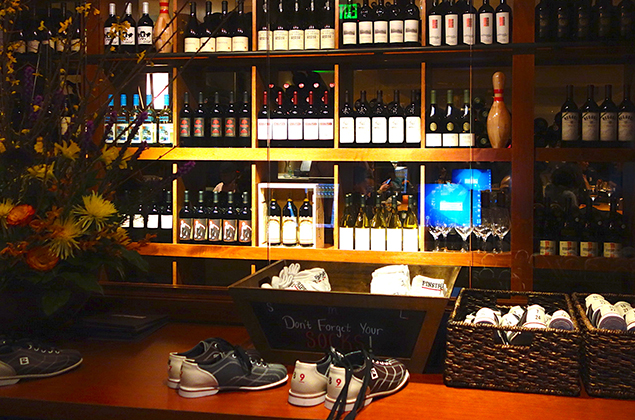 But it is the bowling and bocce that will get the curious in the door, which is why we returned over the weekend for a routine rather than party experience. Though manager Paul Mazurski says the wait can be as long as two hours at peak times, we got a lane immediately.
The 14 bowling lanes are way back at the end of the 34,000-square-foot restaurant, just past the two bocce areas, and are brightly lit during the day, but as the sun sets outside the lights inside the bowling alley dim, too, giving nighttime bowling a clubby feel. Each lane is equipped with black leather sofas and dining tables, and has a dedicated food server. There's a full menu of small bites, salads, pastas, sandwiches, pizza, and flatbreads, all prepared in an open kitchen. (See more on the menu from Best Bites Blog.)
A friend and I rented shoes and bowled two games; not including food, our total came to $29.61. We nibbled on sliders, pizza, flatbread, stuffed mushrooms, and a dessert sampler. What we had tasted straight out of Chicago, generous with the garlic, and the favorite was the sliders. As we bowled, we noticed Mazurski roaming the dining rooms and gaming areas with the visiting Pinstripes brass, introducing himself to customers and making sure their needs were met.
Pinstripes offers a mix of traditional bowling center features—special hours for children, ladies' night—and more unusual ones, such as weekday happy hour that begins at 3, with $3 beer, $4 hours wines, and various premium cocktails for $5. On Friday, wine under $50 a bottle is half off. Weekday hours are 11:30 to 11; on Friday and Saturday the place opens earlier and stays open until half past midnight.
The question is whether it will bring excitement to a mall that's still sorely in need of revitalization. TJ Maxx and HomeGoods was the last big thing to open at Georgetown Park, which has been under renovation for more than a year. The most recent tenant to sign a lease is the discount shoe retailer DSW, but there's no word on when it will open. It will be DSW's third store in DC. J.Crew, H&M, and Washington Sports Club are longtime tenants that have remained open during the mall reboot.