The National Weather Service is certain Washington is going to be hit with another snowstorm on Wednesday evening. But just how much will we get dumped on this time? The 8.2 inches of snow DC has already received this winter makes it the heaviest season since 2010-11, but it's still far behind the record-setting 2009-10 winter, when a series of blizzards dropped 50 inches of snow on the city.
But if the most extreme forecasts are realized, we could get an avalanche on par with the January 1987 Nor'easter that left the Washington area buried under 10 to 14 inches of snow. The Washington Post's Capital Weather Gang writes that the system moving toward us is forming with "many of the same features in place" as the 1987 storm, including a high-pressure system over Quebec and a low-pressure zone over the Great Lakes.
The National Weather Service's winter storm watch has the Washington area to brace for at least five inches of snow (and possibly sleet), but the agency also says there is a 40 percent chance that the District gets at least eight inches of snow by Friday morning, and even more likely to the southwest.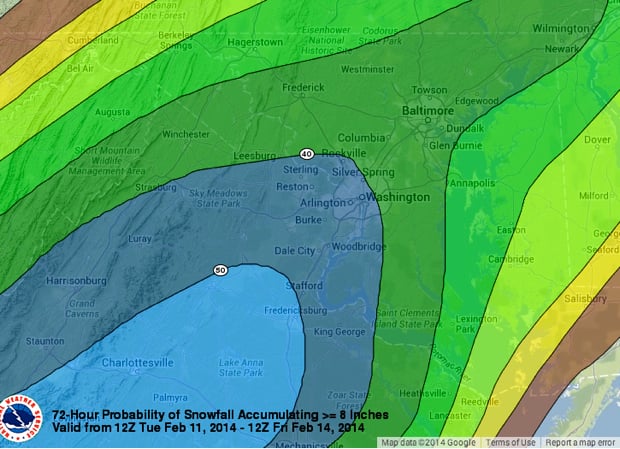 So far, the most extraordinary response to the forecast is that American University moved its men's basketball team's game against Lehigh University from 7:30 PM tomorrow to 6:30. Of course, when the snow arrives, expect school closings, social media-friendly snowball fights, and restaurants and bars vying for the most ridiculous snow day special.
And when the winter panic mood returns tomorrow evening, remember: in the post-blizzard barter economy, that last half-gallon of almond milk you snatched at Whole Foods is worth three roadside flares and a pizza.