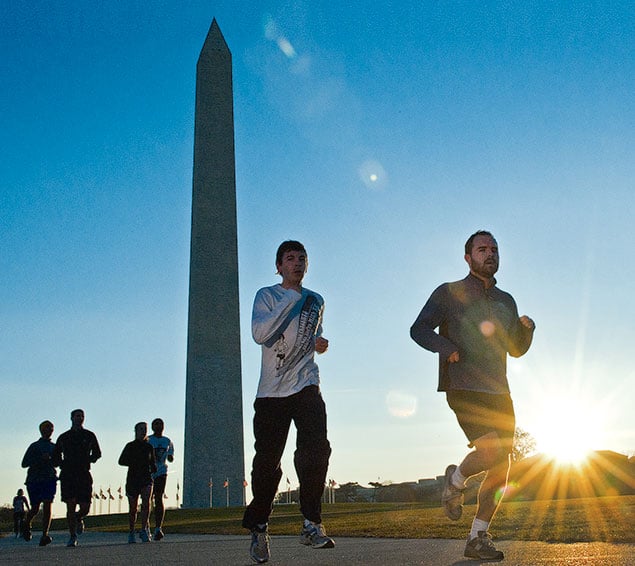 Work up a sweat and learn about Washington . . .
on a Saturday-morning Run With a Ranger around the Mall. Routes change weekly but always include mini-lectures at key statues and monuments. The 8 am runs average three to four miles, with subjects spanning the conventional (Cherry Blossom History) to the obscure (Planes, Trains, and Automobiles). Runs start up for the season in late March. Free. 202-426-6841.
Glimpse previously unseen Ansel Adams photo murals . . .
at the Department of the Interior headquarters,where hourlong mural tours double as histories of what was once jokingly known as the Department of Everything Else. Former Secretary Harold Ickes micromanaged each aspect of construction during the Great Depression, from a top-floor ice-cream parlor to the dozens of murals by American artists adorning corridors. Under Ickes's supervision, many murals underwent revisions, but one artist still managed to sneak Communist symbolism into a painting of a dam-building project. Free. 202-208-4743.
See a Japanese pagoda and a Swiss chalet steps apart . . .
in a two-hour walking tour of National Park Seminary in Silver Spring's Forest Glen. Tours explain the 127-year history of the 32-acre campus—it's been an inn, a boarding school, and a rehabilitation facility for wounded soldiers—as well as the varied architecture and outdoor sculpture. $5. 301-589-1715.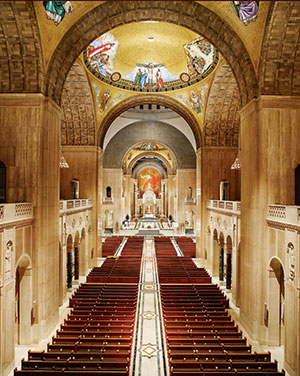 See the largest Catholic church in the United States . . .
and one of the ten largest in the world, when you visit the Basilica of the National Shrine of the Immaculate Conception in Northeast DC. Although the towering basilica is a familiar presence on the city skyline, many Washingtonians have never been inside. On a self-guided or guided tour, you can explore more than 70 chapels, each with gleaming glass mosaics and marble statuary paying homage to the Virgin Mary and various saints. Free. 202-526-8300.
Become an expert on Washington's architecture . . .
on a guided outdoor tour offered through the U.S. Capitol Historical Society. The two-hour tours start at Union Station every Monday at 10 am and are often led by Steve Livengood, an American-history scholar. He takes groups around the Capitol grounds, explaining the building's construction and pointing out former offices of famous politicians. You'll pick up tidbits on everything from the origin of the city's layout to the history of the House and Senate chambers. $10. 202-543-8919.
Peek inside a broadcast studio . . .
on a tour of NPR's headquarters. In the newsroom, you'll learn about the history and mission of public radio and possibly meet some of the people behind popular programs such as Morning Edition and All Things Considered. Visitors also learn about the new building's state-of-the-art technology and features such as its "green" roof. Ages 16 and up. Free.
Explore Washington's underground music scene . . .
on a 2½-hour DC Punk walking tour of Adams Morgan, Mount Pleasant, and Columbia Heights, neighborhoods brimming with music and activism in the 1980s and '90s. Guide Mark Andersen rolls along his boom box—blasting Fugazi, Bikini Kill, and Bad Brains—as he explains DC's influential punk history, emphasizing action rather than empty rhetoric. Free. 202-487-8698; marka@wearefamilydc.org.
Admire beautiful private gardens . . .
through the Cultural Landscape Foundation's Garden Dialogues. Focusing on one property per tour, the conversations engage the featured site's landscape architect and client about how they collaborated and realized their vision. Starts at $40 a ticket. 202-483-0553.
Let the kids play secret agents . . .
and lead you through DC's Penn Quarter on the International Spy Museum's GPS-guided Spy in the City tour. They'll crack codes and follow clues to track down a Russian spy; you'll see the original Franklin D. Roosevelt memorial, the National Archives building, the Old Post Office, and other sights. $14.95. 202-393-7798.
Walk with your dog around Mount Vernon . . . .
on an All the President's Pups 1.25-mile walking tour. Hear about George Washington's dogs (an avid fox hunter, he was the father of the American foxhound), learn about the rescue dogs that patrol the farm, and follow an old wooded carriage trail not shown on the regular tour. $5 on top of general admission (adults $18, seniors $17, children $9; save $1 by purchasing online); dogs free. Tours start again in April. 703-780-2000.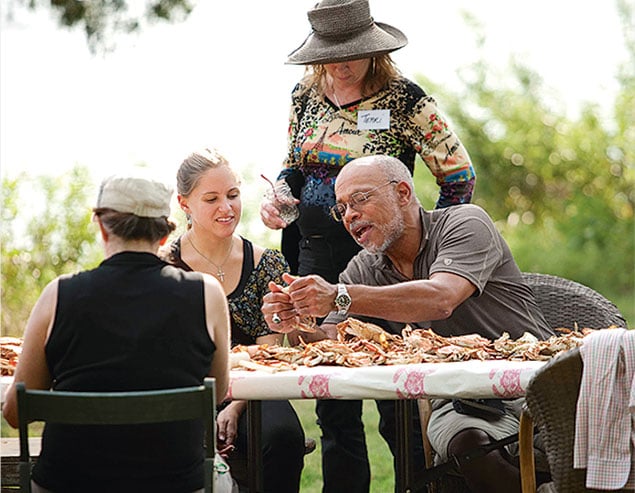 Learn how to crab . . .
on a Watermen Heritage Tour on the Chesapeake Bay. Work up an appetite pulling pots, then enjoy the scenery while your guide explains the bay's history. Tour lengths vary, but expect a two-hour minimum. Some of the watermen—who take groups of six or fewer out on their workboats—will even cook your bounty back at the dock. Tours begin again in May. Starting at $100 an hour per boat. 443-321-3610.
Clip-clop through Civil War lore . . .
on an Antietam horse-and-carriage guided tour. Antietam was the site of the bloodiest one-day battle in US history. The four-hour tour in an Amish-made wagon, which can accommodate up to four, focuses on how the fighting affected families living near the battlefield and ends with a period-style picnic of fried chicken, corn oysters, and cider. $329 per group. 304-876-1307.
Hear broadcasts in 45 languages . . .
at the Voice of America Studio Tour. Step inside the VOA studios and watch broadcasters during live TV and radio programs to a global audience, including news, call-in, and interview formats. Learn about international broadcasting and hear programs in languages such as Farsi, Portuguese, French, and Tibetan. Forty-five-minute tours take place Monday through Friday at noon and 2:30. Free. 202-203-4990.
Relive the night of April 14, 1865 . . .
when President Abraham Lincoln was assassinated, on a History on Foot outing. The two-hour tour is led by an actor playing an investigator. Trace the escape route that assassin John Wilkes Booth used and see other significant locations as you make the 1.6-mile trek on foot from Ford's Theatre to Lafayette Square across from the White House. $15. 202-347-4833.