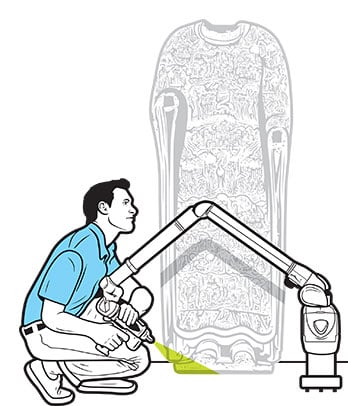 1. The Freer Gallery approached the initiative's staff about scanning the museum's sixth-century Cosmic Buddha, a life-size statue covered in faint carvings depicting the afterlife and enlightenment. "It's a really challenging object for visitors and even curators—there's a huge amount going on visually," Vince Rossi of the Smithsonian's Digitization Program Office says. "But we're able to pull out details that aren't easily seen by the naked eye."
2. Using a laser-arm scanner—which resembles the light above a dentist's chair—Rossi and fellow 3D program officer Adam Metallo moved a two-inch band of light across the sculpture to capture each tiny crevice. "It's almost like we're painting," Rossi says.
3. The Buddha's color was captured using photogrammetry, a process that required taking more than 300 two-dimensional photographs of the sculpture from every angle. The team then used the overlapping images to render color.
4. When the scanning is finished, the data is uploaded as a "point cloud," a series of dots that are joined to create a polygonal model. The Buddha had more than 20 million points.
5. Once the finishing touches are put on the digitized model, it's uploaded to the Smithsonian X 3D website, granting researchers and the public unprecedented views of the carvings. One feature highlights little-known details hidden in the relief, while another "unwraps" the imagery encircling the sculpture so it can be examined as a single image for the first time. "This technology lets people engage in a way they couldn't by just reading the two-sentence blurb at the gallery," Rossi says.
6. Or you could print your own Buddha. To create the model, a 3D printer assembles fine layers of plastic to craft a three-dimensional replica of the artifact. The Smithsonian hopes this hands-on experience will become a tool for teachers, researchers, and the public to study some of the museum's 137 million objects.
7. In July, DC's Martin Luther King Jr. Memorial Library added a 3D printer for public use. Buddha printing encouraged.
This article appears in the February 2014 issue of Washingtonian.