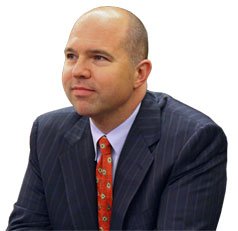 Officially, DC Council member David Catania is still "exploring" whether he'll run for mayor in the general election as an independent, but as the eight-person Democratic field dukes it out on the way to their April 1 primary, Catania is already collecting political endorsements. Catania got a nod today from the Gay & Lesbian Victory Fund, the nation's largest political action committee geared toward electing openly gay candidates.
"David Catania brings an incredible amount of passion and commitment to his job," Torey Carter, the group's chief operating officer, says in a press release. "He is ideally positioned to lead a city with such diverse and dynamic people."
Those officially running for mayor have also been collecting endorsements from large political groups, especially Mayor Vince Gray, who has racked up support from the Building Trades Council; Service Employees International Union; American Federation of State, County, and Municipal Employees; hotel workers; and laborers. Council member Vincent Orange got the endorsement of the United Food and Commercial Workers.
Not every big union is picking sides, though. The Metropolitan Washington Council of the AFL-CIO, which represents over 150,000 workers in the DC area, said today it will not endorse a candidate in the Democratic primary. Candidates are also waiting to hear from the unions representing the city's teachers, police officers, and fire fighters, all three of which have had frosty relationships with Gray's administration.
But Gray, who got a critical endorsement from the Washington Teachers Union when he defeated Adrian Fenty in 2010, appears not to care about a repeat nod from the city's educators. His campaign manager (and self-declared election cop), Chuck Thies, tells Washingtonian that Gray did not answer a questionnaire from WTU and also turned down an in-person meeting.
"The mayor has said that if someone has good ideas to improve schools, he's happy to have a discussion," Thies says. "The Washington Teachers Union is not that. The one debate hosted by WTU that Mayor Gray participated in was not well managed."
That debate last December, which marked Gray's first appearance as a candidate, was very hostile toward the mayor, with an auditorium full of teachers repeatedly jeering his defense schools chancellor Kaya Henderson. "This campaign will not allow students and educators to become political footballs in this election," Thies says.
A spokeswoman for the Washington Teachers Union says the snubs aren't necessarily dealbreakers. The union plans to make its endorsement in the next 10 days.
In other non-union endorsements, Council member Muriel Bowser, who was endorsed by the Washington Post last week, gained the approval of EMILY's List, which raises money for female candidates. The organization's president, Stephanie Schriock, saying Bowser "has the plans to improve DC's schools, infrastructure and city government."