"Uncle Earl" has been calling the shots since 2006.
That's the moniker DC businessman and political megadonor Jeffrey Thompson asked Vince Gray and Gray's campaign hands to use in 2010 when he financed a $668,800 shadow campaign on Gray's behalf, prosecutors said today as Thompson pleaded guilty to local and federal charges of conspiring to defraud elections.
Prosecutors also said, after a three-year federal investigation, that Gray knew about the illicit campaign financing and personally asked Thompson for his support, a revelation that comes less than a month before the Democratic mayoral primary in which Gray is seeking a second term.
"Mayoral candidate A is Vincent Gray," Assistant US Attorney Michael Atkinson said before unpacking a detailed scheme in which Thompson used his businesses, friends, and family members to spend vast amounts of cash on Gray's 2010 mayoral effort without reporting a cent. Thompson admitted to developing the shadow campaign in concert with Eugenia Clarke Harris and Vernon Hawkins, two longtime associates of Gray's who previously entered guilty pleas over the course of the investigation.
The plotting commenced in early 2010 before Gray, then the chairman of the DC Council, entered the race, Atkinson said. According to the charges, Thompson, Harris, and Hawkins discussed Thompson's financially supporting Gray if he was willing to run against then-Mayor Adrian Fenty. But Thompson feared that openly backing a challenger to the incumbent would jeopardize his company Chartered Health Plan's Medicaid contract worth $300 million a year. Thompson believed the business climate would be more favorable in a Gray administration, according to prosecutors. Thompson told Hawkins and Harris that his support would have to be kept secret, and that he should be referred to as "Uncle Earl." Thompson's first contribution came that May, when he wired $15,000 to Hawkins and Harris to purchase campaign materials.
Atkinson discussed two instances in which Gray met with Thompson. The first encounter took place on June 7, three days before a financial reporting deadline, in which the parties talked about "expediting" the fundraising process. Gray wound up reporting $561,342 on June 10, with much of the money coming in the form of contributions from people who were later reimbursed by Thompson, according to Atkinson.
Thompson also admitted to contributing another $82,500 on July 28 by wiring the money from his accouting firm, Thompson, Cobb, Bazilio and Associates, to a company run by Harris.
But the big payment came in August 2010, when Gray's campaign was planning its get-out-the-vote operation ahead of the September 14 primary. Hawkins told Thompson the sprint to the finish would cost more than $400,000. Thompson agreed to pony it up, but only if Gray asked him personally. Atkinson said Harris arranged a dinner meeting at her apartment between Gray and Thompson, where Gray asked Thompson to pay for get-out-the-vote activities.
"Thank you, uncle," Gray reportedly said when leaving the dinner, prosecutors said.
Thompson wired another $566,000 between September 7 and 14, when Gray beat Fenty 53 percent to 46 percent. He made additional payments after the primary, including $10,000 that went to a close family member of the mayor-elect, $40,000 to a personal friend for home repairs, and $10,000 to support the election of a union leader that Gray backed, Atkinson said.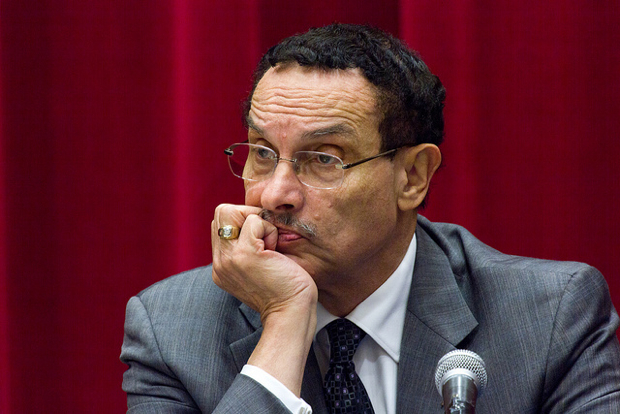 Gray has denied knowledge of the shadow campaign since US Attorney Ron Machen opened his investigation in 2011, and he has not been charged with any wrongdoing. But he began his re-election campaign by apologizing for the "great pain" his 2010 effort caused the city. Chuck Thies, the manager of Gray's current campaign, says the details laid out in court today should not be taken seriously.
"What value is there to what Jeff Thompson says?" Thies tells Washingtonian. "A man who has subverted democracy? This is a man you can trust?"
Thompson's hearing contained potential bad news for another mayoral candidate, DC Council member Vincent Orange, whose successful 2011 campaign in a special election for an at-large seat was described during the proceeding. Atkinson said that Thompson met directly with "Candidate D" ahead of the March 10 fundraising deadline to collect contributions in the form of money orders from people who were reimbursed by Thompson. When the candidates in the race filed their fundraising reports, "Candidate D" led the pack.
But the details read in court could be the most damning for Gray, a fact not lost on mayoral hopeful Tommy Wells, who has run on a platform of ethical reform and was stalking outside the courthouse during the hearing.
"It's worse than I imagined," Wells says. "I've known Vince Gray for many years. I'm shocked."
Wells came in fourth place in a pair of recent polls, but hopes he might get a boost from today. "It became a lot more real," he says.
Former city council member Michael Brown was a frequent recipient of Jeff Thompson's dirty cash, according to federal prosecutors. Brown pleaded guilty in June to taking bribes of $100 bills stuffed in a duffle bag and coffee mugs. That caper had no connection to Jeff Thompson, but it put Brown in the position of talking to prosecutors about his dealings with Thompson.
In 2006, Brown was running for mayor in the Democratic primary against city council chair Linda Cropp and Fenty, then the Ward 4 Council member. Atkinson told federal Judge Colleen Kollar-Kotelly that Thompson feared Fenty would disrupt his lucrative city contracts, so he supported Cropp and contributed funds to her campaign. Late in the campaign, when Fenty was pulling ahead of Cropp, Thompson met with Brown, asked him to drop out of the race and publicly support Cropp. In exchange, Thompson promised to provide Brown with a contract for $200,000.
In early September, Brown dropped out of the race and threw his support to Cropp. Thompson then financed a contract of $12,500 a month for Brown.
Fenty won the election.
Brown is the son of Ron Brown, former chair of the Democratic National Committee and commerce secretary under Bill Clinton. He was killed in a plane crash in the Balkans in 1996.
From Thompson's perspective, Monday's plea deal was a win. Sitting at the conference table and testifying before the judge, Thompson seemed at peace, for good reason. In exchange for providing prosecutors with evidence that Mayor Gray was fully aware that his campaign was receiving Thompson's dirty money, Thompson could serve no time in federal prison.
The prosecutors are asking Kollar-Kotelly to waive the 18 months he might have served for violating federal campaign and tax laws. That leaves Thompson facing a six-month sentence for violating DC campaign finance laws. It is quite possible that prosecutors will allow Thompson to skip jail time on those charges, as well. He could wind up spending six months confined to his home.
"Uncle Earl" might wind up getting off pretty easy.
Sulaimon Brown, the fringe mayoral candidate whose allegations in 2011 set off the federal investigation that eventually implicated Gray and Thompson, was not in federal court Monday. Brown alleged that Gray's campaign paid him to harass Fenty, and Gray promised him a job in his government. Brown got the job, but when he was quickly fired, he went public with his allegations, which proved to be true. When federal prosecutors investigated Brown's case, they unravelled Thompson's shadow campaign.
Brown's attorney, James Rudasill, attended Monday's hearing.
"They thought they were untouchable," he told Washingtonian. "They were not."