As I mentioned in last week's Top 10 Books for March 2014 post, we live in the nation's most literate place. It stands to reason that we also have loads of great literary happenings, and while I can't attend them all, I do try to get to several each month, and pay attention to those I miss. Each month I'll try to bring you an update on what I've seen, tidbits from events I've heard about, and info on what I think you might want to put on your calendars for the next week or two.
On Tuesday, March 4, I attended a party in honor of Myra MacPherson's book launch at The Cosmos Club. MacPherson, formerly a Washington Post political reporter who lives in Miami, was just trying to get a drink at the Club bar when I accosted her for a brief pre-party interview about The Scarlet Sisters: Sex, Suffrage, and Scandal in the Gilded Age. (NB: The book, a lively and heretofore untold account of sisters Victoria Woodhull and Tennie Claflin, received a terrifc revew in the Post.) We talked about her scandalous subjects, siblings who became the first women traders on Wall Street and refused to live by the very restrictive rules for 19th-century ladies. "People didn't know what to make of them," said MacPherson. "They went from capitalists [as traders] to communists [as activists], and when people would ask them how they reconciled the two, they would say 'We needed the money to support our work!'" One of the most important points MacPherson has to make is that things haven't really changed all that much: "It's always very hard for political women. Always. Maybe even more so today."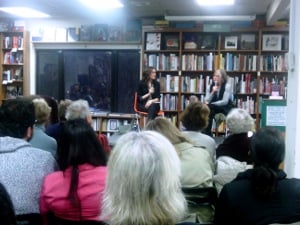 Women were also center stage at the Politics & Prose event for I See You Made an Effort: Compliments, Indignities, and Survival Stories from the Edge of 50 by Annabelle Gurwitch, interviewed by her DC-resident pal and fellow author Barbara Ehrenreich. Far more men than anyone might anticipated joined the crowd! Annabelle and Barbara began by recounting how they met (which was in DC) and quickly went on to compare compressions stockings to Spanx, whether to attend a concert with a teenager, and the invisibility of the parental set, and on to more serious subjects like breast cancer. Take a look at Gurwitch's book trailer–even if you're not on the edge of 50, you'll recognize some of the ways in which we all categorize the people in our lives.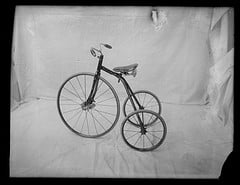 While the weather outside continues to be frightful, a spring-themed cocktail gathering is always delightful–and sometimes it works out in the oddest ways. DC-based literary agency RossYoon is known for throwing great parties around this time of the year, and Thursday's, held at Hogo Bar, was in keeping with that tradition. [Full Disclosure: Howard Yoon is my agent.] In the course of the evening, I met and chatted for a while with a really interesting author, Adele Levine, whose memoir Run, Don't Walk: The Curious and Chaotic Life of a Physical Therapist Inside Walter Reed Medical Center will be published by Avery/Penguin next month (more on her book then, I promise!). As I joked to various attendees, one of the best parts of the evenings for me was the on-street parking spot I nabbed right in front of the bar. But Adele's evening took a more intriguing turn when she walked out and saw her bicycle chained to a street sign there, too. The surprise? Her bike had been stolen last August.