Many writers find it difficult to sustain a balance between the work they do for love and the work they do to pay the bills. The novelist sitting across from me in a DC boutique hotel has, however, found his own solution: "Benjamin Black is my day job, and John Banville searches for perfection."
"Banville," as he often refers to himself, is a polished, witty, and somewhat guarded Irishman who won the 2005 Booker Prize for The Sea: A Novel and has won a passel of other awards (Irish, Italian, Austrian, British…) for other Banville titles such as The Book of Evidence and Ancient Light. Heralded as "one of the most imaginary literary novelists working in English today" by author and journalist Marie Arana, John Banville could rest on his laurels.
But he will not, because "Writing as a craftsman, you might sell a million copies, but you will not have perfection," he tells me. "I'm not looking for that when I write as Black, but Banville aspires to be an artist." Fortunately, the two authors work on different schedules: It takes "three to four years of hard work" to finish a Banville book, while Black books are written during the three to four months of the season he prefers to spend indoors: "I hate the summer. It's a dead time, when the earth is at its most barren. That's when I write a Black novel."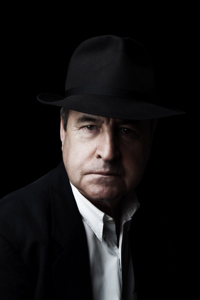 A few years back, "a Black novel" would have meant "a Quirke novel," as until now, the 1950s Dublin PI was his protagonist of choice. However, Banville/Black is visiting the US at the moment to promote something new, a book called The Black-Eyed Blonde whose narrator is none other than Phillip Marlowe, the hard-boiled noir creation of Raymond Chandler. Pluck a sentence or paragraph at random from Benjamin Black's novel and you might think you're reading Chandler, his style is that faithful. But there are differences. "My Marlowe is not quite Chandler's," says Banville. "I was captivated by the man's essential loneliness. He has no family, no home, no possessions. What he does have is a fundamental belief in being honest. He's in the mold of an ancient hero."
Banville believes "Our times need people like Marlowe. The concept of goodness is very old fashioned, as is the idea of doing your best. That's what attracted me to giving this a try." Will he write another Marlowe book? "It depends on how this one's received. I'm very proud of this one and where I've managed to insert it into the Marlowe timeline, so I'd be quite happy to go on."

A new Banville novel is in the works, but Quirke fans can look forward to the BBC series coming in May, starring Gabriel Byrne–and written by John Banville. Or is it Benjamin Black who did the screenwriting? "The two men do sometimes look over each other's shoulders," Banville admits with a smile. "This is why I can't take a job teaching writers. I'd kill them all, or put them off writing completely." Good thing he's too busy crafting and searching for that to happen.