Jamie Higdon is a holistic practitioner at Chesapeake Holistic Natural Health Center in Annapolis, where she and her team provide nutrition-consulting services. Says Higdon, "I work with busy, active people to help them figure out how and where healthy can fit into their already-hectic lives."
Higdon is no stranger to a hectic lifestyle. On top of her day job, she's a yoga instructor and the author of the cookbook A Taste of Chesapeake Holistic. When she's not working with clients, you'll find her in the kitchen, providing private in-home cooking lessons. Read on to see how she fuels during a typical day.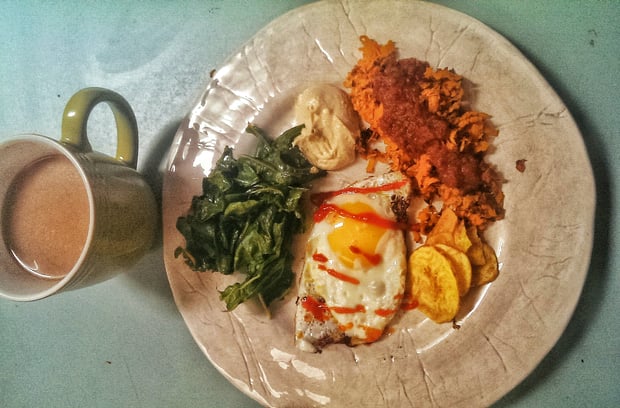 Breakfast: "After a little bit of stretching, I was awake enough to safely operate a stove. Today it was for a fried organic egg with Sriracha (I don't eat much without it!), greens sautéed in premade garlic oil, and shredded sweet potato, which I topped with salsa. I had a lot of clients in the morning, and I knew it would be a while until I ate again, so I threw on a couple of plantain chips and some leftover homemade hummus. Add a cup of organic coffee with coconut cream, and voilà! I was a whole new person."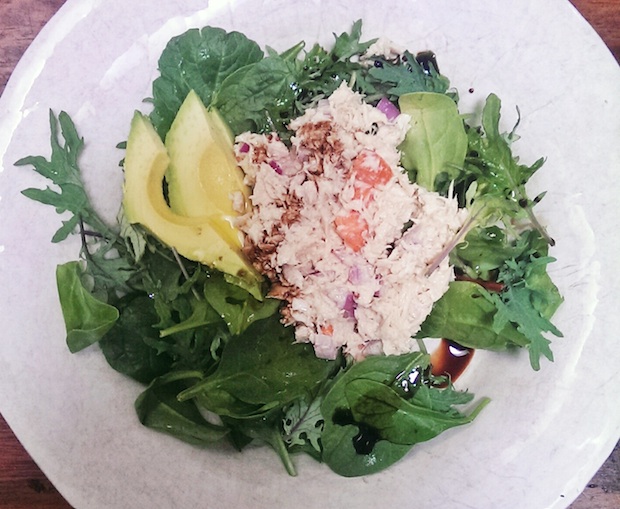 Lunch: "Fortunately, my schedule sometimes allows for a quick lunch at home. I made tuna salad with homemade mayonnaise earlier in the week (I always make leftovers!), which I put on top of organic salad greens with some sliced avocado, extra-virgin olive oil, and tangerine-balsamic vinegar. I knew I would be going to the gym in a few hours, so I wanted to be sure I had something that would digest easily but still fill me up. (I tend to function better when I don't snack.)"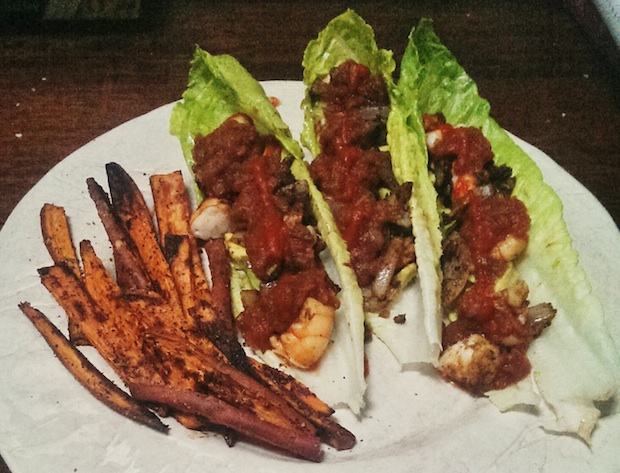 Dinner: "After the gym, I needed something quick, healthy, and protein-rich. I tossed some frozen wild-caught shrimp in a bowl of water to thaw and quickly chopped some sweet potatoes (while still in my gym clothes!) for fries before jumping in the shower. While the fries baked, I sautéed the shrimp in my cast-iron skillet with garlic, onion, and peppers seasoned with chili powder, cumin, and garlic powder. It was done in about 15 minutes, and I chopped up some avocado while the fries finished."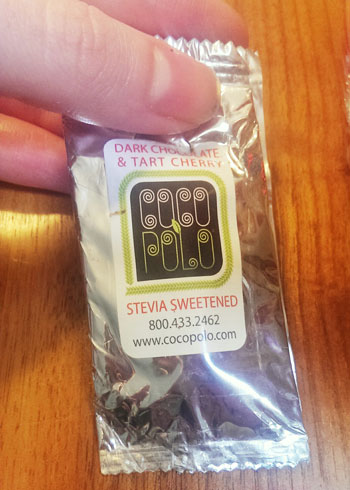 Dessert: "We normally reserve these little gems for our clients, but I found one at the bottom of my bag after working a health fair a few days ago. I don't normally snack much at night, but the size was perfect."
Disclaimer: The Food Diaries series is intended to be inspirational and is not an endorsement of each individual's diet.
Are you a local health, fitness, or nutrition expert with a love of food? E-mail wellbeing@washingtonian.com to find out how you could be featured in our series.