Kaitlin Sheedy, 31, has been running track since high school—but she's never won a race as large as Sunday's before. The Massachusetts native, who competed collegiately at Tufts, is the second District resident to win the Nike Women's Half Marathon DC in as many years, finishing with a time of 1:20:56. We caught up with her the day after her big win to find out how she pulled it off.
How did it feel to represent the Washington area in the second-ever Nike Women's Half?
It's very cool. It means a lot to me to live in an area where I can take advantage of all of the beautiful running trails—it's just a great city to be active in. It was really special to win such a big event in my home away from home. I've lived here for so long that it definitely feels like home, so if I were to pick anywhere other than Boston to win something like this, it would be DC. It was very special to have the local community supporting the event.
Was there anything particularly challenging about the race?
Nike made it really easy logistically for all of the participants, and being a resident of DC, it was great to just jog down to the start [line] in the morning and get to enjoy all of the sights I see during my training runs. This is a great time of year to just appreciate the beauty of the city. The course itself was pretty fast; there were a couple of inclines, but in general, it was a flat, fast course. And the weather couldn't have been better. We really lucked out.
Did you do anything special the night before the race to prep?
I tried to get a bunch of sleep the week before. I didn't sleep too well the night before the race. I was waking up pretty early to make sure I could eat before, so I had a restless night's sleep, as I usually do the night before a race, from nerves and excitement. And then I just tried to relax during the day and week before and stay off my feet to rest up.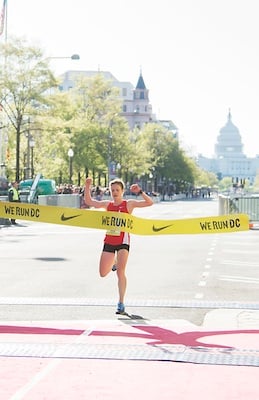 How did it feel to cross the finish line?
It was pretty thrilling. I've never won a big race before, so it was a new experience for me. I heard some friends along the way in that last loop of the finish line, and I remember coming around the corner when I could see the finish line—the crowd was so loud, and that's when I realized, Oh, my gosh, I could win this! Breaking the tape was really exciting; it was just a cool experience to be the first one to cross.
Who was out there cheering you on?
My husband was there. The course is really spectator-friendly, so he was able to see me, I think he calculated seven times, which is always a lot of fun for both the runners and the supporters. Then I had some other teammates out there and some friends from a nonprofit I volunteer for, TeensRunDC—a lot of those students were out there cheering, which was inspiring. They were at mile 13, so they got to see me in the last push. It makes it a lot of fun for the runners and the spectators when you can see who you are cheering for multiple times.
Aside from winning, what was your favorite part of the experience?
I think just taking in all of the great fans. It was also awesome to see so many local bands cheering us on along the way and pumping up all the runners and the cheerleaders; the energy was just really great throughout the course. The other women were also inspiring: At several points in the race, the course kind of looped around, so you got to see many other women working hard together to accomplish their goal. Overall it was just a really fun experience—beautiful day, beautiful course.
What motivates you when you run?
I think a lot about my friends and family, and teammates I've had in the past and that I run with now. I mentioned briefly before that I volunteer with TeensRunDC, which is a local nonprofit where adult volunteers mentor DC youth; we do long-distance running to help the kids set goals for themselves and make them feel like they can achieve anything in life. I think a lot about those kids who get up early on Saturdays to come run with us and are just really determined to reach their goals. It was exciting that they were out on the course yesterday and were able to see me at the end. So I definitely want to make them proud and want to make my family proud, and I try to relax and think about the training I've put in and appreciate the opportunity to get out there and race. I feel really fortunate that I'm able to run and able to do so in such a runner-friendly city.
Do you have any advice for anyone interested in running Nike's race next year?
I would highly recommend it to anyone who's interested. It is a lottery-system entry, so unfortunately it's not guaranteed that you'll get in, but it was a really fun experience. I would say for those people who do want to commit to running a half marathon, stick it out through those tough winter runs, and it will really pay off when you're able to enjoy the race and finish on hopefully a beautiful spring day like we had this year.