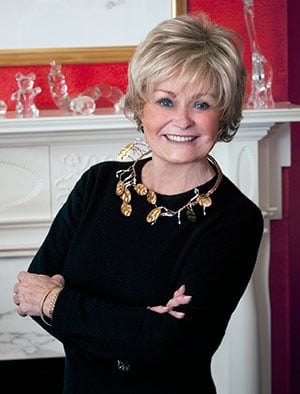 DC-based author Kitty Kelley, known for her usually searing, controversial, and best-selling biographies of the famous and powerful—the royal family, the Bush family, Oprah, Frank Sinatra, Nancy Reagan, the Kennedys—has cut a deal for her next book, and this time it won't be about a person. It will be a biography of a place, Georgetown, one of the most storied sections of Washington, and where Kelley lives.
Revealing the news exclusively to Washingtonian, Kelley said that with this as-yet-untitled book she plans to capture the "verve and dynamic of the loveliest 12 square blocks in Washington." Her publisher is Grand Central (previously Warner Books), which also published her book The Royals. The target publication date will be at least a year after she completes her interviews. She has started on what she anticipates will be the "800 interviews it will take to tell" the story. She says she will give the royalties "back to Georgetown."
She calls the Georgetown book a "delight" because she is already based "in my favorite place."
The author recognizes that Georgetown, which is an insular community, could get its feathers ruffled about undergoing the Kitty Kelley treatment, but that's never been a deterrent in pursuing her subjects. She wants to explore the history of the village and its people, illustrating its story beyond the Kennedys and the "Camelot" era of the 1960s. The onetime riverfront port and Civil War hub is home today to some of DC's wealthiest and most powerful residents.
Coincidentally, her first blockbuster did touch on Camelot. Jackie Oh!, published in 1978, was a biography of Jacqueline Onassis that examined in particular her life after the White House. Praised and slammed nearly equally by critics, her books often hit the market high up on the best-seller lists.
One of the last big books to focus on the mystique of Georgetown was the late C. David Heymann's The Georgetown Ladies' Social Club: Power Passion, and Politics in the Nation's Capital. It was published in 2004.