We know a Washingtonian or two who could benefit from Nicole Desiano's services. Desiano is the owner of Nicole's Nurture Network, which provides wellness and life coaching to working professionals—or, as she calls them, "corporate athletes." Her goal: to help "burned-out, overstressed, unhealthy" workers by guiding them through a step-by-step program to achieve a work/life/health balance. Desiano received her certification from the Institute for Integrative Nutrition, where she was trained in more than 100 dietary theories and a variety of lifestyle coaching methods. (To learn more about her, visit her website or Facebook page.)
To keep herself fit, Desiano gets up three times a week at 4:30 for an hour and a half of rowing along the Potomac with the Alexandria Community Rowing Team. She also loves to kayak, bike, and take her greyhound for walks along the Mount Vernon Trail. Amazingly, she does it all without the help of caffeine. Read on for a look at her daily diet.
Morning joe: Herbal coffee sprinkled with cinnamon. "I'm a coffee lover; herbal coffee taste likes the real thing, without the acid and caffeine found in regular coffee."
Breakfast (not pictured): "Greek yogurt and a banana for the potassium, which is great after a good morning row! My drink of choice throughout the day is water or coconut water for hydration."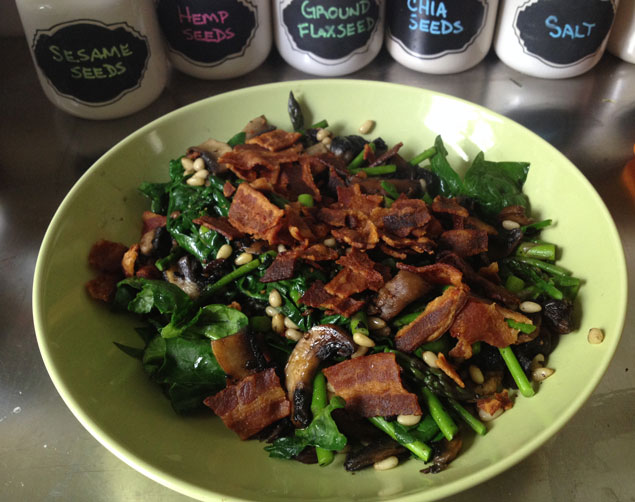 Lunch: Warmed spinach with pine nuts, mushrooms, asparagus, and crumbled bacon on top. "The bacon is low-sodium and baked in the oven ahead of time. Everything is slowly cooked on low to medium heat to preserve nutrients. The olive oil used to cook it creates a dressing of sorts. It can be eaten warm or cold at the office as a leftover."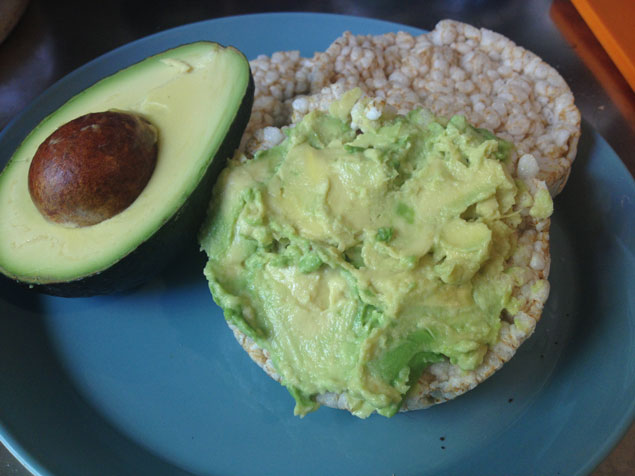 Midday snack: Ripe avocado spread over organic brown rice cakes—"easy to stash at your desk and assemble with little to no mess."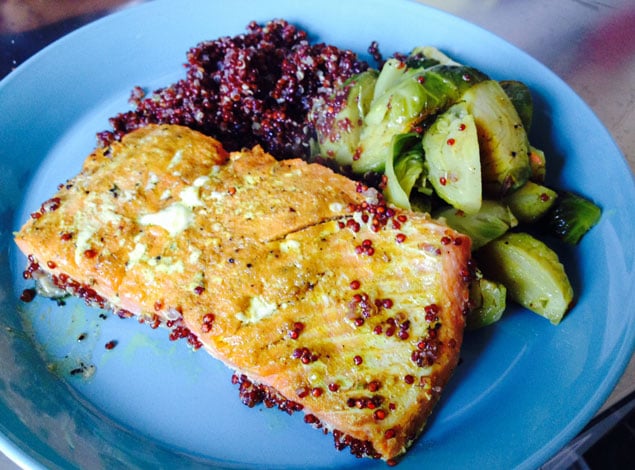 Dinner: Salmon, Brussels sprouts, and quinoa flavored with curry, baked in parchment paper. "It's a fantastic way to cook everything together quickly, with easy clean-up!"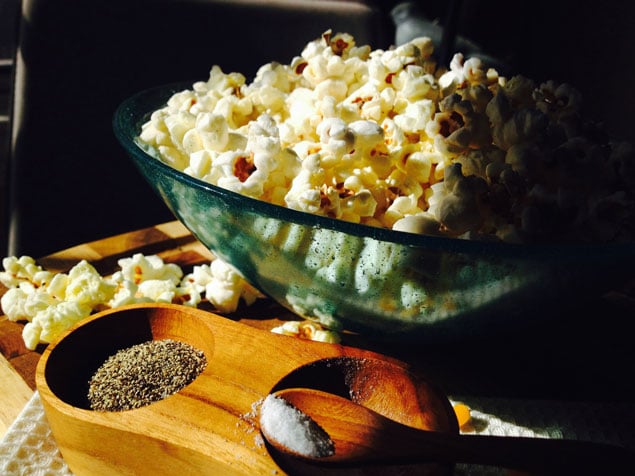 Evening snack: "Organic popcorn popped on my stovetop in a large pot with olive oil, and cracked black pepper and a touch of sea salt for seasoning.
The Food Diaries series is intended to be inspirational and is not an endorsement of each individual's diet.
Are you a local health, nutrition, or fitness expert with a love of food? Keep a food diary for us! E-mail wellbeing@washingtonian.com for details.