As saturated as Washington's blogosphere can often seem, every once in a while, we come across a gem that completely impresses us. The latest on that list: Catalina Creative. Authored by 24-year-old Maryland native Natalie Vargas, what began as a side project (previously known as Doses of Design) to express her love for interiors has rapidly blossomed into a multifaceted lifestyle resource. In just about a year, Vargas has amassed close to 2,000 Twitter followers, her own print shop, a fashion-packed style guide, and, of course, blog posts full of sartorial and interior inspiration with a refreshingly minimalist yet elegant vibe. We chatted with the talented blogger to hear more about how her brand was born and where she gets her inspiration.
Take us through the evolution of your blog. How did it get to where it is today?
It began as a home decor blog. I don't think it was until late fall that I posted my first style post on a "beach chic" look. That day, I received so many comments and likes on my little blog, and I was ecstatic. From then on, I made it a point to write about more than home design. I joined Bloglovin', created a Facebook page and a Google Plus page, tweaked my social media, and began seeking out and following lots of bloggers. Social media is your best friend in the blogosphere! This past January, I decided on a rebrand and a fresh start for a new year. My name no longer applied to what I was posting about, and I wanted to step things up, so Catalina Creative was born.
How would you describe your personal style—and what's your favorite item in your closet?
As written in my Stylish Finds guide, "my style involves lots of neutrals, a casually chic look . . . pretty patterns and feminine lines." I'm a fan of casual cool. I love to dress up when the occasion calls for it, but everyday life is spent in skinnies, chic flats, and a tee, silk top, or oversize sweater. In the office, I love fitted pants, heels, and a printed top for flair. Favorite item? I'm not sure I can choose just one! I finally bought my first Gigi New York clutch this year, in gray, with my initials in gold. I can't get enough of that one. I'm also a big fan of my black skinnies and leopard pumps.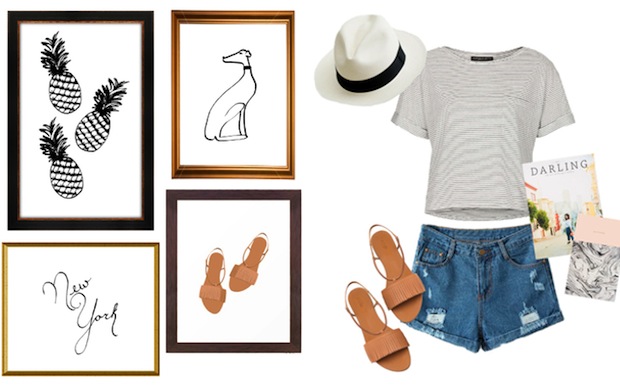 What's your impression of DC style?
Something I truly adore about DC and its surrounding areas is how diverse everyone and everything is. There are so many different people and different cultures living in the DMV, and it makes for quite the fashion! Sure, we have our trends, like any other city, but I think it's evident everyone has their own style here. So many of us are working-class, and with this being our nation's capital, there's a sense of sophistication associated with our city's fashion. Plus I think it's impressive that we ladies know how to dress for the weather here. In the 30s one day, the 70s the next—it takes talent.
Where do you get your design, fashion, and artistic inspiration? Who are your style icons?
Most of my inspiration definitely comes from like-minded people, other bloggers and creative minds I've come across or built relationships with. People are so talented! Even simple things like an editorial layout, a typeface, or a street style look can spark creative thoughts. Being a part of the blog community, you're constantly introduced to new brands or articles, and I love it. When it comes to fashion, Olivia Palermo and Miranda Kerr are two of my favorites. Ladies who can always keep it classic, feminine and sophisticated are so stylish! Fashion blogs that inspire me include Gal Meets Glam, Sincerely Jules, Park and Cube, Atlantic-Pacific, the list goes on. A lot of inspiration comes from Pinterest and Instagram, or reads like Porter and Women's Wear Daily.
How do you balance your 9-to-5 with managing Catalina Creative?
I work full-time as a government consultant. A big reason for my blogging has been to get creative with things that inspire me outside the office. Writing about home decor, putting together fashion posts, and wanderlusting about days in Paris aren't exactly things I can get into when I'm on a client site. By day, I'm working in a cubicle; by night, I'm on the couch searching through J.Crew or Net-a-Porter, and browsing through Pinterest to find inspiration for new posts. Organization and time management are key. I design multiple posts at a time, then schedule them for the week. When I'm not designing in Adobe, I'm painting for the print shop, designing for others, commenting on blogs, and flipping through rotating reads. What I'm doing is so fun, and I've gained so much satisfaction by keeping a full-time professional career while also having this creative outlet on the side.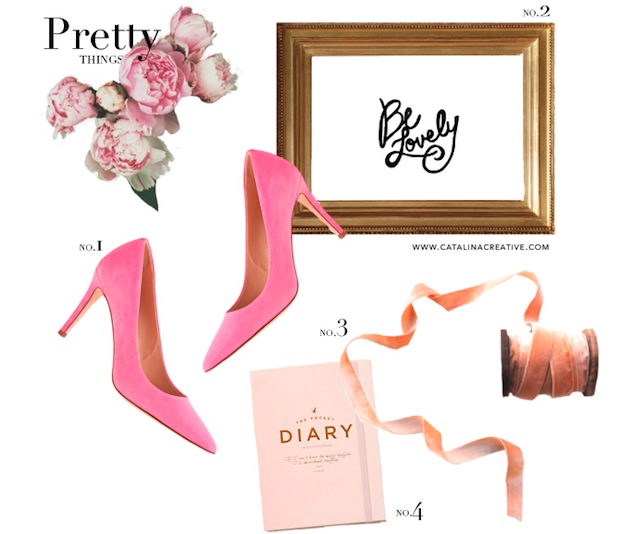 What's the coolest project or collaboration you've done so far as a creative consultant?
If I'm being completely honest, I'd have to say that rebuilding my entire website and rebranding has been my favorite part thus far. I logged so many hours to recreate something I'm in love with doing. Designing new things for my site and making it 100 percent my own has been very rewarding. It's so hard to stay unique in the blog world these days, and I think it's really helped me to define an aesthetic that is my own. I'm still working on that these days. I also began taking on freelance design work to help other bloggers or brands do the same thing, so I'm definitely excited to see what projects and collaborations are in my future. I was also super excited about being in Shop Around as my first feature!
What are your favorite places to shop?
My favorite place to shop is, 100 percent, Zara. My closet is bursting with their perfect styles. It's my go-to for snagging my staple pieces, along with things to mix and match. Plus, there are so many feminine silhouettes and gorgeous patterns for the modern lady, and not too expensive. At 24, I'm still trying to budget when it comes to clothes, so I'm an avid Marshalls and T.J.Maxx shopper. Hello to amazing designer deals! In my little hometown, Velvet Lounge is my weakness—the chicest little boutique filled with various designers such as Free People, Obey, Rebecca Minkoff, House of Harlow, and more.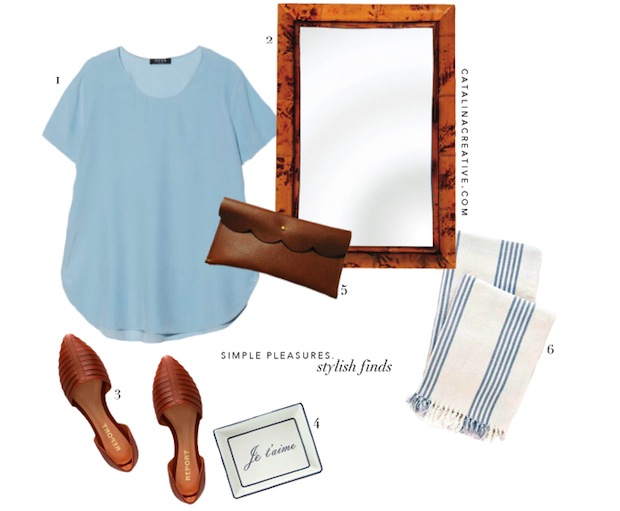 What are the three things every woman in DC should have in her closet?
Black skinny denim jeans, black pointy-toe heels, and a good blazer. So many of us are successful working women, but we're also fashion-conscious. Our wardrobes need to be interchangeable. I think all these items can be dressed up for a day in the office, then dressed down for happy hour with girlfriends. Black denim and heels are classic necessities for any woman and can be styled so many ways. A blazer is fitting for the office, but can also be thrown over a sexy white tee and jeans for dinner with friends, dates, or a night out.
What trends are you most looking forward to for summer?
I must admit, I've never been someone who pays much attention to trends, I usually just wear what I like! After becoming a lifestyle blogger, I'm much more aware of what's "in" these days, and I've seen so many recurring themes in blog posts lately. Things like pastels, trench coats, and boyfriends jeans come to mind. I've also been obsessed with d'Orsay flats. I've bought four pairs to rock this spring in the office and for weekends. There are so many styles and colors, I'm starting a collection—you should too!
All images by and taken with permission from Natalie Vargas.