On a recent Saturday afternoon, while at the Georgetown waterfront with friends, I randomly encountered a fellow Antarctica marathoner, Bill Connor. Bill had just relocated to Washington from Hawaii as a Lieutenant Colonel in the Marine Corps and was also there enjoying the rowing races. Both of us were wearing our "last marathon" shirts and immediately began to relive our glorious adventure to Antarctica.
In 2011, I decided to become a member of the "7 Continents Club"—a group of people who have completed marathons on each continent. The most difficult is the Antarctica Marathon, held on March 9 this year. It was my 17th marathon in six years, including races in Boston, New York, Washington, Mumbai, Rio de Janeiro, Dubai, the Canary Islands, Dublin, Cork City, and Sydney. Approximately 440 runners have completed all seven continents, according to the Boston-based company Marathon Tours that organizes the Antarctica race—that's fewer than have climbed Mount Everest.
My journey to Antarctica started in Buenos Aires, with the wedding of a close family friend alongside my oldest son, business meetings, asados (barbecues), training sessions with a local Buenos Aires running group (Gracias, Juan Guadalupe and Santiago!), and gatherings with the other Antarctica marathon runners. Besides Bill and myself, local Washingtonians included Mike Locke, an economist from U Street; Amir Arasta, a chiropractor from Adams Morgan; Connie Corbett, a marketing specialist from Germantown; and Yvette Ju, a physician from Olney.
More than 20 countries were represented in our group. There was the Canadian "iron couple" (they've completed 220 Ironmen between them), a Polish entrepreneur (who voiced strong opinions about Putin), "Marathon Man" from Australia (who completed 160 marathons on seven continents in just a year), our Mexican videographer, a Long Island mother of six, and a Norwegian businesswoman. There was also a Columbian healthcare businessman, a rugby player from New Zealand, a Chinese engineer, an Australian Olympic rower who won the women's race, two moms from Texas, and doctors from India, Panama, California, and Indiana. It was an eclectic group to say the least.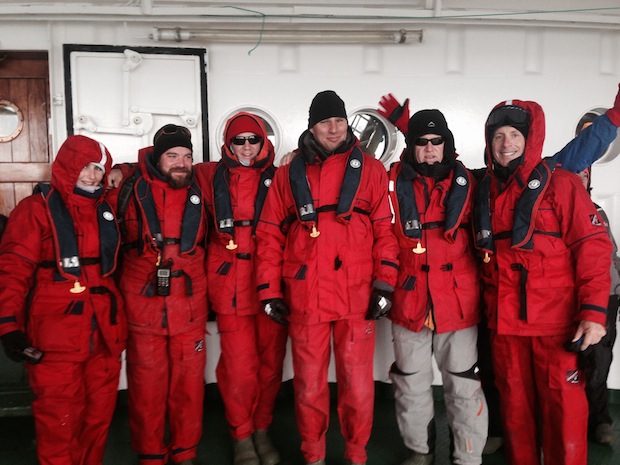 We took a three-hour flight from Buenos Aires to Ushuaia—the largest city in the southernmost portion of our hemisphere—the city "at the bottom of the world." This area of Patagonia is scenic, with glaciers and mountains along a majestic harbor; it looks like Switzerland. After visiting the famous "prison museum" and eating delicious crab (better than Maryland's), we boarded our ship. The "Ioffe," named after a prominent Russian physicist, was to be our home for the two-day voyage over Drake's passage—one of the roughest crossings in the world.
Dreading the two-day trip more than the marathon itself, many of us wore motion-sickness patches. While the vast majority of runners experienced only fatigue with the patch, some still became ill and were confined to their cabins during the rough voyage. Fortunately, our emergency-room doctor, Alan, made regular "house calls" on all the decks. We had a friendly Russian crew that provided hearty meals, and we joked about heading directly to Russia after the race because of the Putin-Obama standoff. Presentations on marathon logistics, early explorers, ice melting/climate change, and wildlife helped pass the time.
Our first excursion after arriving in Antarctica was to Robert Island. We all boarded zodiacs—large motorized rafts—to traverse the choppy sea. Our "wetskins" (cold weather gear and boots), kept us from getting soaked during our trip to see elephant seals, fur seals, and chinstrap penguins. Thousands of penguins greeted us as we headed to shore, as the runners took more photos than DC tourists at Cherry Blossom time. It was a winter wilderness—a way to imagine earth before man arrived, as if we had been transported to another planet by the aptly named "First Expedition" group.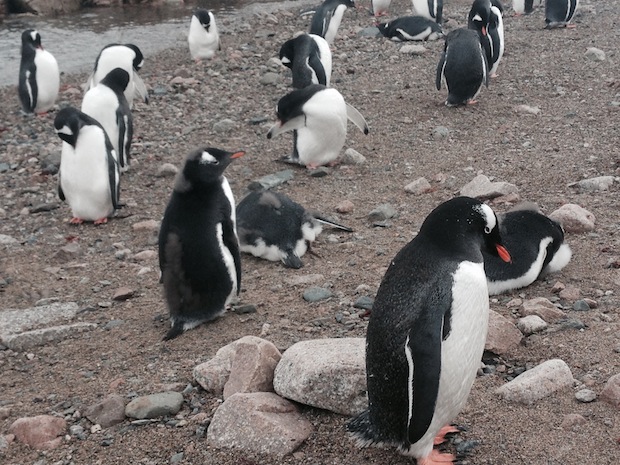 In my marathon running, I have always lived by the African proverb: "If you want to go fast, go alone. If you want to go far, go together." Fortunately, I met Suze, a petroleum engineer who lives in Houston but is originally from Bethesda and works on offshore oil platforms. She, annoyingly, had no motion sickness or fatigue. Suze and I have approximately the same marathon pace, so we decided to run together.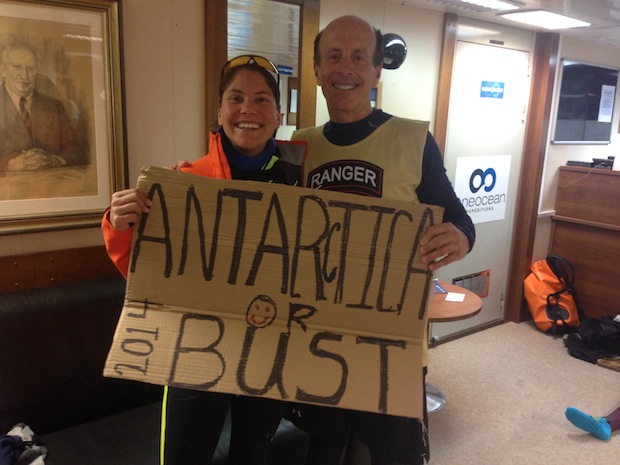 The race was held on King George Island (named after King George III). The island is protected as an Antarctic Specialty Managed Area under the Protocol on Environmental Protection to the Antarctic Treaty. Simply stated, no Power Bar wrappers whatsoever would be allowed on land during the race, and only one makeshift "port-a-potty" could be used. This was my first, and most likely last, marathon that involved leaving a ship on a zodiac to get to the course. We ran through several countries—that is, research stations near the race course belonging to Russia, Uruguay, China, and Chile. While this was billed as a marathon, we soon learned that it was more of an eco-challenge, adventure race, and Tough Mudder combined.
We raced on steep icy hills, across lengthy rock paths, through ankle-deep mud, and over streams that became rivers as the day wore on. An aggressive bird, the brown skua, tried to attack one runner's thick blond hair, while another made off with a water bottle. The temperature was near freezing but was much colder with the wind chill. At times we experienced freezing rain and sleet, so ski googles and ski masks came in handy. The only obstacles missing were a volcanic eruption and an earthquake! My polar vortex training in Washington proved invaluable.
An extraordinary group of runners from South Africa participated. Particularly memorable was the first blind runner to ever finish an Antarctica Marathon. Hein, blind since birth, was assisted by his guide, Nick ,who was helping him for the first time ever. (Hein's regular marathon sponsor, Mike, was injured.) Hein was raising funds for VisionTrust, which works to make the world more accessible to the disabled.
Another inspirational new friend was Sophia, a Vietnamese scientist from California, who had begun running marathons after 3 children and major weight gain. She was one of the best runners on board and is a member of Marathon Maniacs Sophia has run 89 marathons in four years. And then there was Richard, running in shorts with his daughter, Kathleen, from Arlington. Richard is in his 60s and has run hundreds of marathons; he's on his fourth circle around the globe running marathons on all seven continents!
Some scientists from the research stations participated in the race, and the Chinese were particularly friendly supporters, providing snacks and water. We couldn't say the same about a van full of Russians who rudely leaned on their horn as we ran down a gravel road during the race.
Suze and I ran the marathon from start to finish. We enjoyed our conversation, took photos, and cheered on the runners as we passed each other going back and forth from the central transition area. With approximately six miles to go, Jay, an entrepreneur from North Dakota joined us. Then with four miles to go, Dave, a Canadian who lives in Bali, made our trio a quartet. Dave, Jay, and I were all on track to complete our 7 continents, so I urged us all to hold hands with a quarter of a mile to go, as I saw Dave start to falter.
As we crossed the finish line, Dave collapsed on his back in muddy water. Dr. Alan and another doctor from San Francisco were right there, fortunately, and we all carried Dave into the medical tent. Within hours, Dave was walking on board the ship although somewhat dazed. My nickname for him became "Lazarus" which everyone would call him for the remainder of the trip. It is worth noting that we were the only four people to finish the race together. Two runners who did not finish the race on land subsequently ran a full marathon on the ship's deck.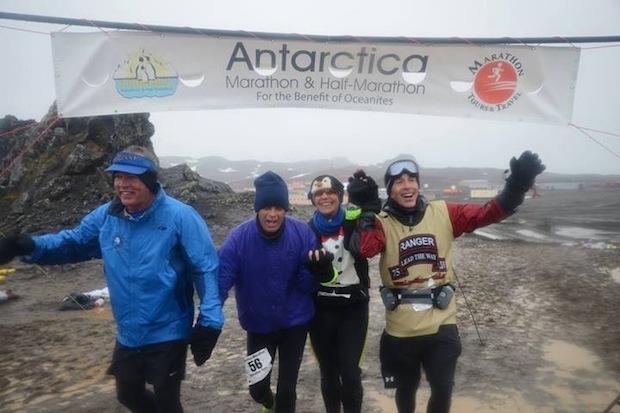 During the next two days in Antarctica, we were able to experience ocean kayaking, glacier hiking, snowball fights, a polar plunge, a "beach" party in the ship's bar, and a wedding officiated by the Russian captain. We saw many seals, whales, and penguins swimming through the icy waters. From the zodiacs we watched an avalanche, glaciers breaking into the sea, seals resting on icebergs, and arctic birds nesting on the side of a cliff. This all gave new meaning to the word "breathtaking."
Our journey back to Argentina from Antarctica was much smoother than the outbound voyage. We had all experienced the trip of a lifetime while developing lifelong friends. We had completed a marathon in Antarctica! I don't think any of us Washingtonians would ever complain about the weather or conditions on the day of the Marine Corps marathon ever again.
Joe Findaro is a lawyer/lobbyist in Washington, DC with Akerman LLP and a father of three who lives in Vienna. He will be moving to Georgetown this fall. His next marathon is in Chicago.