Take in City Sights
4 hours
Pittsburgh is a big city that feels like a small town: Cultured but casual, it's affordable, friendly, and easy to navigate.
Get acquainted through the amphibious Just Ducky Tours (412-402-3825), in which you ride under and over some of Pittsburgh's 446 bridges. Guides provide a spirited discourse on the architecture and history of this quintessential American city.
Pop artist Andy Warhol spent his childhood in Pittsburgh, and the Andy Warhol Museum (117 Sandusky St.; 412-237-8300) features whimsical drawings he created in his youth as well as silkscreens of Marilyn, Liz, Elvis, and Campbell's Soup cans. At the Carnegie Museum of Natural History (4400 Forbes Ave.; 412-622-3131), you can examine an impressive collection of dinosaurs, gems, and Egyptian sarcophagi. Children love playing paleontologist in the museum's Bonehunters Quarry.
Wander through the Strip District, a dynamic street scene with ethnic bodegas, shops, and galleries. As you peruse the colorful vendors, you could snack on treats at the Enrico Biscotti Company (2022 Penn Ave.; 412-281-2602) or Pittsburgh's signature sandwich—Italian bread layered with coleslaw, fries, and your choice of meat and veggies from Primanti Brothers (46 18th St.; 412-263-2142).
For a view of the city from on high, ride the Duquesne Incline (1197 W. Carson St.; 412-381-1665), a 19th-century funicular with vintage wooden cable cars.
Stylish accommodations await at the historic Omni William Penn Hotel (from $349) and the Priory Hotel (thepriory.com; from $170, including parking and breakfast).
On your way to Pittsburgh, consider a detour to architect Frank Lloyd Wright's masterpiece, Fallingwater (1491 Mill Run Rd., Mill Run, Pa.; 724-329-8501; reservations recommended). On your way home, you might pay your respects at the Flight 93 National Memorial (6424 Lincoln Hwy., Stoystown, Pa.; 814-893-6322).
—Renee Sklarew
Play Spy With the Kids
2.5 hours
Spying was a way of life in Colonial Williamsburg, which was rife with intrigue in the 18th century. A free program, RevQuest, combines smartphone technology and old-school gumshoe savvy. Girls can don bonnets and boys can wear breeches as they scurry about the cobblestone streets to solve a mystery rooted in Revolutionary War history. Participants arrange secret meetings with English loyalists and revolutionaries (i.e., costumed interpreters) to unearth clues hidden everywhere from the governor's palace to the jail. Stay at the family favorite Williamsburg Lodge (rooms from $210)—with three pools—or in an authentic Colonial House (from $180). For more information on lodging and on RevQuest, go to colonialwilliamsburg.com.
—Andrea C. Poe
See LBJ on Broadway
4 hours
How does an actor follow a three-time Emmy-winning performance on a TV show some critics and fans have called one of the best of all time? Bryan Cranston, who wrapped up five seasons playing chemistry teacher turned drugmaker Walter White on AMC's Breaking Bad last year, immediately took on a very different role: playing Lyndon Baines Johnson in Robert Schenkkan's All the Way, a sweeping look at how the Civil Rights Act of 1964 became law. The production is at the Neil Simon Theatre on West 52nd Street through June 29; the Washington Post praised Cranston's "effortlessly captivating" performance in a show that sheds light on our current state of gridlock as it examines the 36th President's fusion of personal magnetism and political muscle.
—Sophie Gilbert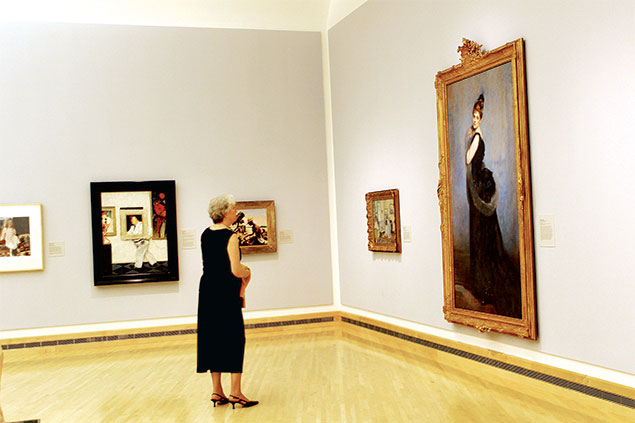 View Art in the Mountains
3.5 hours
Roanoke, the "Star City of the South"—so named because of an 89-foot-tall illuminated star, built in 1949, on Mill Mountain—shines when it comes to cultural attractions.
The most visibly striking is the Taubman Museum of Art (110 Salem Ave., SE; 540-342-5760). Designed by architect Randall Stout, the museum includes works by Thomas Eakins, Winslow Homer, and John Singer Sargent as well as pillboxes and handbags by Judith Leiber.
The walkable city of about 100,000 has an active arts scene. Art by Night, the first Friday of each month, allows gallery-goers to meet local artists. The 56th Annual Sidewalk Art Show—this year on May 31—is a juried exhibit of more than 100 artists. Music fans will find the Roanoke Symphony Orchestra (540-343-9127) and Opera Roanoke (540-345-2550). The nonprofit Grandin Theatre (1310 Grandin Rd.; 540-345-6377) shows indie films, classics, and morning cartoons in the summer.
Other museums highlight natural sciences, railroading, and African-American culture. The Norfolk Southern Railway tracks split the town, and the glass-enclosed Market Square Walkway spans the tracks to connect downtown to the circa-1882 Hotel Roanoke & Conference Center (rooms from $119).
—Judy Colbert
Go Behind Downton Abbey
2 hours
An exhibit at Winterthur Museum, Garden & Library (5105 Kennett Pike, Wilmington, Del.; 800-448-3883) called "Costumes of Downton Abbey" showcases 40 wardrobe pieces from the PBS Masterpiece series. Some of the show's most memorable outfits—Lady Sybil's harem pants, Lady Mary's engagement dress, and Lady Edith's wedding dress—are on display. The backdrop for the collection is the estate of Henry Francis du Pont, which includes a 175-room mansion and 1,000 acres to explore. The exhibit runs until January 4. Adults $20, children $5.
Make a weekend of it and stay nearby at the circa-1913 Hotel du Pont (rates from $250 for the Downton Abbey package) and dine in the opulent Green Room, with its oak paneling, coffered ceiling, Italian mosaics, and rich draperies.
—Andrea C. Poe