Bobby Goodfellow is the head coach and director of strength and conditioning at DC's CrossFit Praxis. His typical week involves planning workouts for athletes, coaching CrossFit and CrossFit football classes, and training in Brazilian jiu jitsu. In between, he follows his own workout routine, which includes conditioning and weight-lifting four days a week, with three days off for rest and recovery.
All that training requires lots of fuel, so Goodfellow says he eats "with abandon," including carb-loading in the middle of the week. "Wednesdays are my favorite. You can usually find me in the gym eating District Doughnuts—they're amazing," he says. He also drinks plenty of water throughout the day.
Read on for a look at Goodfellow's typical diet on a training day.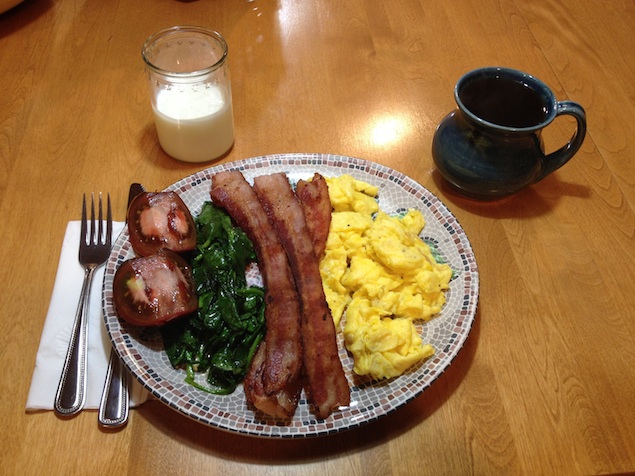 Breakfast: Cage-free eggs scrambled in grass-fed butter, uncured slab bacon, spinach wilted in bacon fat, half an heirloom tomato, six to eight ounces of plain kefir, and black coffee. "The combination of protein, fat, few carbs, and caffeine keeps me feeling full into the afternoon."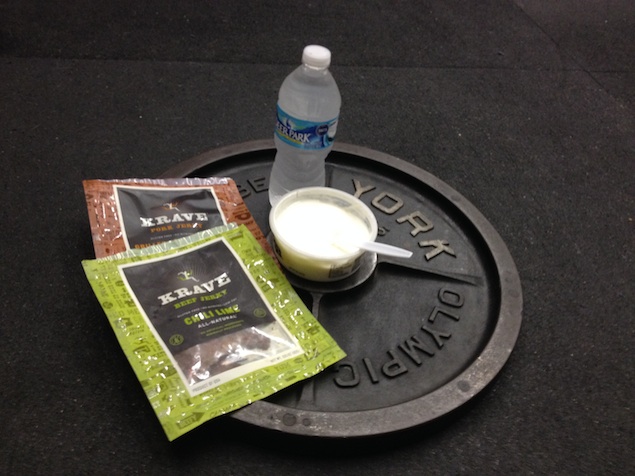 Midday snack: Organic Greek yogurt and Krave beef and pork jerky. "More protein and fat, with some added carbs from the yogurt to fuel me for my training session."
Post-workout shake (not pictured): Organic lactose-free whole milk with 40 grams grass-fed whey protein. "Immediately following my last rep, I push the carbs and protein down the hatch. My muscles are ready to be refueled, so lots of carbs and protein are a must."
Lunch: Grilled pork chops, a baked sweet potato, Brussels sprouts and onions pan-fried in grass-fed butter, and half an heirloom tomato. "Twenty to 30 minutes after my protein shake, I consume a meal high in carbs and protein."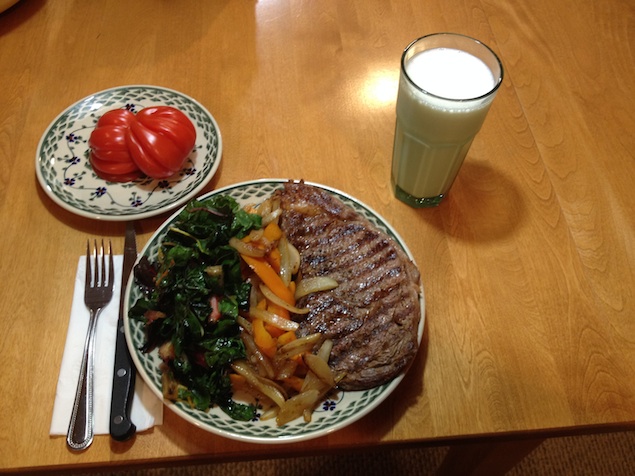 Dinner: Grass-fed rib eye, wilted rainbow chard, bell peppers and onions pan-fried in grass-fed butter, an heirloom tomato, and organic lactose-free whole milk. "Surprise—more protein and more fat. I'm off to bed shortly thereafter. Wake up, repeat."
Disclaimer: The Food Diaries series is intended to be inspirational and is not an endorsement of each individual's diet.
Are you a local health, nutrition, or fitness expert with a love of food? Keep a food diary for us! E-mail wellbeing@washingtonian.com for details.