"Being out of political life five and a half years, people call me and say they miss me," said former DC Council member Carol Schwartz, fresh from officially entering the mayoral race.
Schwartz, 70, out of local politics since January 2009, resurfaced Monday when she suddenly announced her intentions to wedge herself into the contest between Muriel Bowser and David Catania. Press and other politically interested people had gathered to learn why she had decided to make a late, long-shot bid.
Catania's campaign has explained her unexpected candidacy as a spoiler. Schwartz, a former Republican like Catania, was at odds with him during her final years on the Council, and close to Bowser.
"Oh, please," Schwartz told reporters Friday. "I think it's petty and distracting."
When pressed again, Schwartz said she has no comment on either of her opponents. She also said she still lives primarily in the District, though she did admit being out of office allows her to spend more time in her homes in Rehoboth Beach, Delaware, and Florida.
As a candidate, Schwartz seems to still be fleshing out her positions after six years in the political wilderness. "I love seeing the boomtown," she said about DC's present economic growth. She also says she'd try to enhance the city's "inclusionary zoning" rules, which require developers to reserve units in new developments for low- and moderate-income families. She also says she'd keep DC Public Schools Chancellor Kaya Henderson in place—a position Bowser also staked out this week—but veers into her past advocacy for magnet schools when asked about the redrawn school boundaries published this week.
By running as an independent Schwartz is also giving herself an added burden of collecting 3,000 valid signatures from DC voters by August 6. She could have avoided the task if she had been the DC Republican Party's mayoral nominee, as she was four times in the past. But she says she left the GOP last December.
"I'd been thinking about it the last several years, watching the party move further and further away," Schwartz said. "When Eric Cantor is considered too liberal? That's a statement in itself."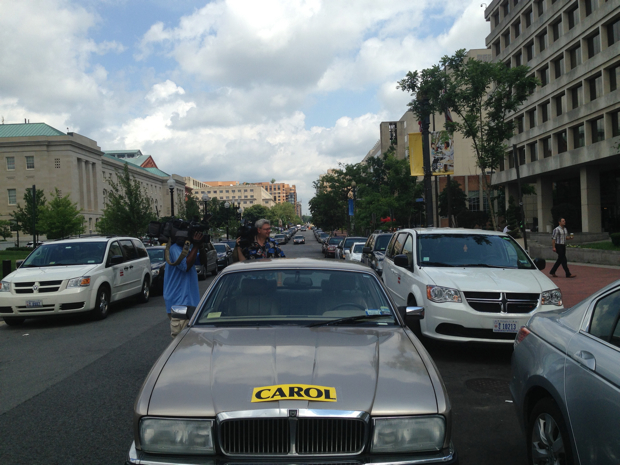 After Schwartz finished taking questions, she said she was headed over to Anacostia to begin collecting signatures and hopped in her beige Jaguar sedan decked out with bright yellow "Carol Schwartz" signs. In previous campaigns, Schwartz rode around in a yellow Pontiac Firebird convertible with the top down because, she said today, "it lets people know I'm accessible."
The Firebird may come out later this summer, but for today, Schwartz decided it would be more "mayoral" to go with the Jaguar.
"I decided today I'd be a little more reserved," she said.