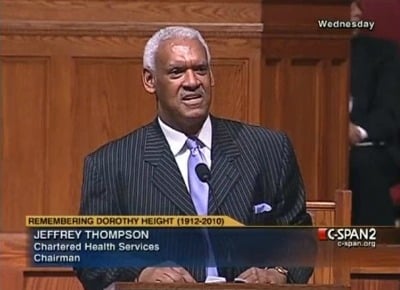 Another onetime DC Council candidate headed to court Monday to face charges connected to admitted shadow campaign major-domo Jeffrey Thompson.
Jeff Smith, a public education advocate who ran for the Ward 1 Council seat in 2010, pleaded guilty to making false statements to the District's Office of Campaign Finance about donations to his campaign. Smith and Thompson, prosecutors say, covered up contributions well in excess of the city's $500 individual limit for ward races.
Smith, who held a seat on the old DC School Board, is currently employed as the executive director DC Voice, a nonprofit group that promotes school reform. DC Voice could not be reached for comment about the charge against Smith.
Falsifying campaign finance records can carry a penalty of up to five years in prison. According to the complaint filed by US Attorney Ron Machen, Thompson funneled money to Smith from his accounting firm and the holding company for his Medicaid contracting company. The money was used to pay for campaign services and materials ordered either by Smith himself or campaign associates under his direction, the complaint reads.
Council member Jim Graham won the 2010 race with 57 percent of the vote; Smith split the remainder evenly with neighborhood activist Bryan Weaver. (Graham lost his bid for a fifth term in this year's primary.)
While the complaint does not say how much money Thompson dropped on Smith, Thompson said he spent $140,000 in unreported funds on the race as part of his guilty plea in March. In total, Thompson spent more than $2 million illegally on more than two dozen federal and local candidates over a six-year period, including $668,000 on behalf of Mayor Vince Gray in 2010. (Gray has not been charged with any wrongdoing.)
Smith is the second beneficiary of Thompson's largesse to enter a guilty plea this month. Kelvin Robinson, an aide to former Mayor Anthony Williams, pleaded guilty June 3 to taking $33,500 from Thompson in 2010 for two unsuccessful DC Council races.
UPDATE, 3:39 PM: In court Monday afternoon, Smith admitted Thompson gave his campaign more than $140,000 following a spending plan he gave Thompson in March 2010. Smith and Thompson first started discussing the scheme in December 2009, according to a statement of offense filed in court.
Thompson's unreported generosity nearly matched Smith's on-the-books war chest. According to a December 2010 campaign finance filing, Smith reported spending $143,000 for his unsuccessful Ward 1 bid.
Smith faces between six and 24 months of prison or probation, according to a plea document. Prosecutors also agreed not to pursue charges against Smith's family Arielle Etienne-Edmondson, his deputy at DC Voice. But the Thompson fallout is far from done, Machen says in a press release trumpeting Smith's guilty plea.
"We commend Jeff Smith for acknowledging his misconduct and will press forward with our efforts to hold accountable all those who participated in under-the-table deals with Jeff Thompson," he says.